Much to think about with cavity walls
January 22, 2015



FAILURES
Deborah Slaton, David S. Patterson, AIA, and Jeffrey N. Sutterlin, PE
In response to greater focus on building envelope energy performance, insulation use in the exterior wall cavity has increased. For all U.S. climate zones, the 2012 International Energy Conservation Code (IECC) requires continuous insulation (ci), which is defined by the American Society of Heating, Refrigerating, and Air-conditioning Engineers (ASHRAE) as "insulation that is continuous across all structural members without thermal bridges other than fasteners and service openings." In cavity wall construction, this is typically accomplished with a continuous plane of rigid or semi-rigid insulation outboard the water (or weather)-resistive barrier/air-vapor barrier (WRB/AVB).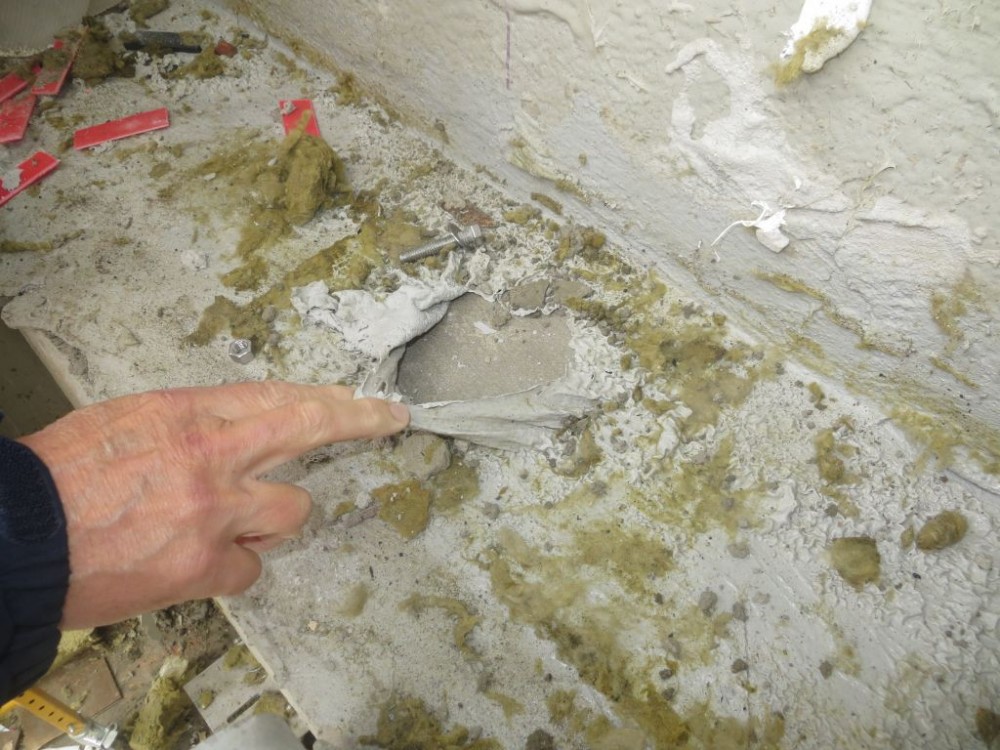 Foam plastics (e.g. extruded polystyrene [XPS]) and semi-rigid mineral wool insulation have been the most commonly used in exterior wall cavities for this purpose. Each has certain advantages and disadvantages. For example, XPS has a slightly higher R-value (nominally 5.0 per inch) as compared to mineral wool (nominally 4.2 per inch), but is considered combustible while mineral wool is not. Use of foam plastic insulation within the exterior wall cavity of Type I to IV construction triggers the need for testing per National Fire Protection Association (NFPA) 285, Standard Fire Test Method for Evaluation of Fire Propagation Characteristics of Exterior Non-load-bearing Wall Assemblies Containing Combustible Components.
In the 2012 International Building Code (IBC), Section 1403.5 also requires combustible WRBs in the exterior wall assembly of buildings greater than 12 m (40 ft) in height comply with NFPA 285 testing of the assembly. The 2015 IBC appears to have recognized the burden this requirement has placed on the construction industry; NFPA 285 testing is no longer required when the WRBs are the only combustible material present, and are covered with non-combustible claddings like brick, terra cotta, concrete, or metal.
High-density closed-cell foam plastic insulations can function as air barriers and Class 2 vapor retarders. However, when improperly detailed or installed, they can retard the drying of moisture that enters the wall assembly and collects against the WRB/AVB. Thus, care must be taken to detail and install the insulation to minimize the passing of bulk water inboard of its exterior face.
Mineral wool insulation, while typically free-draining, can retain moisture and wet the WRB/AVB until the moisture drains through or evaporates. Some mineral wool insulation products are manufactured with enhanced water-resistance, making them more suitable for use in an exterior wall cavity or rainscreen application. No matter which insulation is used, the wall cavity should be designed with sufficient ventilation provisions to allow materials within to dry out.
WRB/AVBs used inboard of the insulation have evolved to include fluid-applied products, which have different properties than traditional sheet barriers. Recognizing the potential for moisture or bulk water that enters the wall cavity to be held against the WRB/AVB by the insulation, the designer must understand the limitations of all products involved in the installation to avoid the failure shown in the photo below.
The opinions expressed in Failures are based on the authors' experiences and do not necessarily reflect those of the CSI or The Construction Specifier.
Deborah Slaton is an architectural conservator and principal with Wiss, Janney, Elstner Associates, Inc. (WJE) in Northbrook, Illinois, specializing in historic preservation and materials conservation. She can be reached at dslaton@wje.com[1].
David S. Patterson, AIA, is an architect and senior principal with WJE's Princeton, New Jersey, office, specializing in investigation and repair of the building envelope. He can be e-mailed at dpatterson@wje.com[2].
Jeffrey N. Sutterlin is an architectural engineer and senior associate with WJE's Princeton office, specializing in investigation and repair of the building envelope. He can be contacted via e-mail at jsutterlin@wje.com[3].
Endnotes:
dslaton@wje.com: mailto:dslaton@wje.com
dpatterson@wje.com: mailto:dpatterson@wje.com
jsutterlin@wje.com: mailto:jsutterlin@wje.com
Source URL: https://www.constructionspecifier.com/much-to-think-about-with-cavity-walls/
---