by Tysen Gannon, LEED AP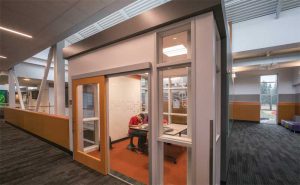 As specifiers know, over the last 30 years, the need for improved occupant well-being has given rise to a vast evolution in the world of building design. Dark, dreary, and hard-to-access interiors are bygones of a different era. Transparent, collaborative, and open spaces are now the standard.
While numerous product developments have contributed to this much-needed design shift, door advancements played a pivotal role in the progression. With doors in larger sizes, new materials, and upgraded operability, design teams have been able to improve wayfinding, accessibility, and visibility for entryways and interior spaces. Today, enhanced commercial interior sliding door systems are further propelling the user well-being trend. With a fraction of the functional footprint of traditional swing doors, sliding doors allow design teams to reimagine openings, elevating occupant usability in a range of commercial settings.
A brief history
Sliding doors first appeared on the scene in the late 1800s, with open and flat track systems for barn and stable door applications. In the 1930s, the addition of enclosed box tracks improved their safety. After World War II, advances in fabrication techniques and bottom rollers sidelined the longstanding challenge of keeping doors on track in residential and commercial applications. With stylish thin aluminum frames, sliding doors gained popularity. By the early 2000s, design professionals started mixing residential and commercial door styles, and creating homier, more occupant-focused environments in workplace, hospitality, and retail centers.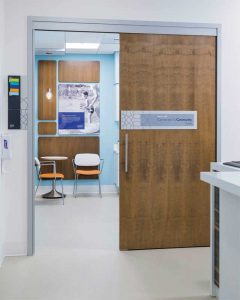 From a design and space efficiency standpoint, bringing the sliding door concept into these popular commercial spaces made sense. The sleek, contemporary doors proved a useful solution for interiors seeking to gain a modern edge. Critically, they were easier to manipulate and maneuver than swing doors, and took up less real estate. The downside, however, was first generation sliding door systems offered less than desirable functionality in more stringent settings like healthcare facilities, offices, and schools. They failed to effectively mitigate noise, had limited hardware, and no fire ratings, all of which hindered use.
Thanks to technological upgrades, these are now problems of the past. With appropriate specification, interior sliding door systems can function as attractive, space-efficient solutions addressing critical occupant health, safety, and welfare needs in some of today's more stringent, code-driven spaces. Since many of these innovations are recent, design and specification teams may not be aware of all the critical success factors that make interior sliding doors a viable option in these areas. To guide proper specification, the following are some of the most essential considerations, from accessibility to fire- and life-safety protection.
Accessibility features
The Americans with Disabilities Act (ADA) National Network says, "People with disabilities are the largest and fastest-growing minority in the United States. They control $1 trillion in total annual income. They have friends, family members, and business colleagues who accompany them to events and outings." To better accommodate this growing minority in building design, professionals use International Code Council (ICC) A117.1, Accessible and Usable Buildings and Facilities. ICC A117.1 helps designers "achieve uniformity in the technical design criteria in building codes that allow a person with a physical disability, such as the inability to walk, blindness, or deafness, to independently get to, enter, and use a facility."
As design professionals know, businesses and facilities can meet the needs of this growing population and maintain compliance with ADA standards by installing wide-open and easily accessible doors.
According to the ADA Compliance Directory, ADA standards say, "doorways shall have a minimum clear opening of 32 in. (815 mm) with the door open 90 degrees, measured between the face of the door and the opposite stop."
While traditional swing doors can meet the criteria, limitations can arise in space-restricted areas. Consider cramped bathrooms and hospital rooms, where hallways are tight and square footage is at a premium. By comparison, the configuration of sliding door systems allows them to comply more easily with these standards. The doors slide along an existing wall or into a pocket, impacting less space through door operations. They are often also easier to maneuver around and through since occupants do not have to get out of the way of the door swing.