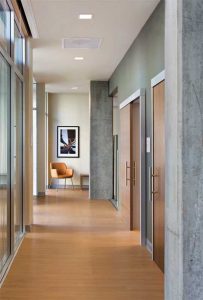 Aesthetic considerations
While functionality is a key consideration for building design professionals, so, too, is form. The good news is functionality does not have to trump aesthetics when it comes to interior sliding door systems. Door manufacturers now offer a wide range of styles to integrate with any interior design and to coordinate between swing and sliding door openings.
Basic customization
Design professionals can customize interior sliding doors to meet exact project needs. Options include wood door leafs in a range of species, stain options, or prepared for field paint. Design teams also have their choice of plastic laminates, aluminum stile and rail doors, and a variety of glazing infill panels. Specifiers can choose to incorporate the wood door leaves within the sliding door spec section or, if they would prefer, to reference the wood door section (to keep the door specification consistent across swing and sliding systems).
Glazing options
As noted above, interior sliding door systems are compatible with glazing infills and panels. They are available in a variety of translucencies to enhance visibility and style, while balancing visual privacy needs. Customization is also a viable option for many of these offerings, with manufacturers allowing graphics and project-specific patterns, and specialty products such as integral blinds or even switchable privacy glazing.
Design teams can also incorporate sliding doors into assemblies with sidelites or transoms, speaking to trends of transparency, privacy, and bringing the outside in, all of which contribute to employee health and happiness. This was the reason Coastal Community Bank used sliding glass doors in their renovated office. Through the use of these doors, the architectural firm that designed the project was able to allow natural light to pass beyond the office doors and into the rest of the building and cubicle areas. The balanced use of clear and frosted glass in this application preserved privacy in the offices while maintaining visual communication to the spaces outside of the doors. In specifying glass for door leaves of fixed transoms, or sidelites, it is advisable to keep safety glazing requirements in mind. If acoustics are a must, one can consider specifying laminated glass for good performance.
Barn-door style
Enhanced operability and functionality are not the only benefits of interior sliding doors configured in the barn-door style. They provide a contemporary look with simple, clean lines and trendy surface mounted, top-hung style. With the variety of options available today, they allow design teams to capitalize on one of today's most popular door trends, whether the look is rustic or formal.
Above and beyond
Sliding doors have come a long way in recent years, and at the rate technology is advancing, they can only be expected to continue that growth. As even more spaces are open to realizing the benefits of sliding doors, it will be crucial to contact manufacturers and suppliers on the resources and design support they can provide, particularly with regards to the latest options and functionality that can be specified in this fast advancing product sector.