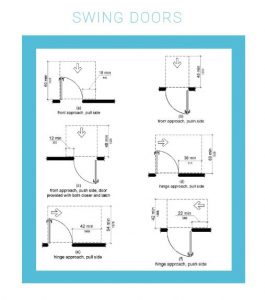 While many design teams are familiar with sliding doors' ability to meet these basic clearance requirements, they are just the start of their accessible design capabilities. The following considerations demonstrate how building professionals can use the sleek doors to not only meet ADA standards, but also increase accessibility to address the needs of all occupants.
Space savings
Space efficiency is a key factor when it comes to door accessibility. Consider the 90-degree swing path requirement and approach clearance requirements of 800 mm (32 in.), enforced by ADA. By removing the 90-degree arc of space needed for a swing door to open, design teams can provide up to an additional 3 m2 (30 sf) of usable room. It is important to note the specific amount of area saved with sliding doors depends on the swing door direction and placement of the door opening within the wall (Figure 1). Space savings can be realized on both sides of the wall, including in the room and the opposing corridor.
On a functional level, the space savings provided by sliding door systems can help occupants in wheelchairs or with limited mobility glide through interiors without any hassle, further improving usability. The doors also increase safety for occupants by removing the risk of being hit by a swinging door when moving down a congested hallway.
In application, interior sliding door systems' space efficiency is particularly suited for commercial areas with limited square footage. Fluid, open pathways in healthcare facility restrooms, for example, are critical to unencumbered staff and patient navigation. By removing the arc of space needed for a swing door to open and maximizing room in these cramped quarters, design teams can improve ease of access. This was the case in Houston Methodist Hospital's new Paula and Joseph C. "Rusty" Walter III Tower.
In acute care and intensive care unit patient rooms, the design team specified top-hung, barn-door style interior sliding doors. The sliding doors were specifically selected as restroom dividers to free up space and allow patients and staff to easily navigate without losing critical room.
Hardware
Door handles need to be accessible to all building occupants to maintain compliance with accessibility laws. This includes people using wheelchairs, as well as those who may need to use an arm or prosthesis to open a door. As such, hardware must be no higher than 1200 mm (48 in.) from the ground and easy for occupants to grasp or use. Meeting this criterion, interior sliding door systems are now available with proper handle clearances and with hardware solutions that do not require pinching, twisting, grasping, or special knowledge to operate such as:
ADA thumb turn lock with occupancy indicators;
ADA self-latching mortise;
ADA-compliant flush pulls;
single-action egress with lever; and
magnetic lock and electric strike key card/access control.
Many current commercial-grade locking and latching systems allow sliding doors to maintain the same look across keying systems. This helps keep the door systems code-compliant, while not compromising on aesthetics.
Operability
To further improve ease of access for occupants, specific door configurations are available to allow for unencumbered navigation. For example, interior sliding doors can be configured in a surface-mounted, top-hung, barn door style, rather than as a pocket door. Doors with this orientation slide along heavy-duty, quiet rollers, instead of traditional floor tracks, which can hinder foot traffic and movement.
Some interior sliding door systems require less than 2 kg (5 lb) of pressure of operating force to open. This helps occupants with disabilities avoid excessive effort to open a door. Another way to enhance accessibility is to specify interior commercial sliding door systems with self-closing capabilities. This is a key benefit in hospitals or healthcare centers, as it reduces strain on occupants with limited mobility and nursing staff carrying heavy loads. It is also beneficial in areas where infection control, air infiltration, or security is a concern.
Taking accessible design to the next level, some interior sliding door manufacturers now offer automation. For example, low-energy operators with battery backup and safety sensors are available as add-on features, and can be helpful to those with limited mobility. All they have to do is press a button or wave to activate the door.
Privacy enhancements
Another important consideration when specifying interior sliding door systems is their ability to provide privacy for occupants. In the past, sliding doors ranked lower than traditional swing doors with respect to sound attenuation. This was largely due to the difficulty of sealing all sides of a sliding door in the closed position, which resulted in leaky gaps for noise transfer. The problem was even more pronounced as interior doors are one of the weakest links in a wall assembly. Doors and openings have lower sound attenuation than the surrounding wall, which is thick, multilayered, and free of gaps.