New-age sliding doors elevate occupant comfort
May 8, 2020
by Tysen Gannon, LEED AP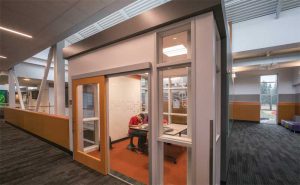 As specifiers know, over the last 30 years, the need for improved occupant well-being has given rise to a vast evolution in the world of building design. Dark, dreary, and hard-to-access interiors are bygones of a different era. Transparent, collaborative, and open spaces are now the standard.
While numerous product developments have contributed to this much-needed design shift, door advancements played a pivotal role in the progression. With doors in larger sizes, new materials, and upgraded operability, design teams have been able to improve wayfinding, accessibility, and visibility for entryways and interior spaces. Today, enhanced commercial interior sliding door systems are further propelling the user well-being trend. With a fraction of the functional footprint of traditional swing doors, sliding doors allow design teams to reimagine openings, elevating occupant usability in a range of commercial settings.
A brief history
Sliding doors first appeared on the scene in the late 1800s, with open and flat track systems for barn and stable door applications. In the 1930s, the addition of enclosed box tracks improved their safety. After World War II, advances in fabrication techniques and bottom rollers sidelined the longstanding challenge of keeping doors on track in residential and commercial applications. With stylish thin aluminum frames, sliding doors gained popularity. By the early 2000s, design professionals started mixing residential and commercial door styles, and creating homier, more occupant-focused environments in workplace, hospitality, and retail centers.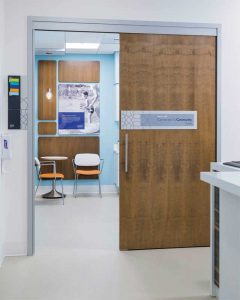 From a design and space efficiency standpoint, bringing the sliding door concept into these popular commercial spaces made sense. The sleek, contemporary doors proved a useful solution for interiors seeking to gain a modern edge. Critically, they were easier to manipulate and maneuver than swing doors, and took up less real estate. The downside, however, was first generation sliding door systems offered less than desirable functionality in more stringent settings like healthcare facilities, offices, and schools. They failed to effectively mitigate noise, had limited hardware, and no fire ratings, all of which hindered use.
Thanks to technological upgrades, these are now problems of the past. With appropriate specification, interior sliding door systems can function as attractive, space-efficient solutions addressing critical occupant health, safety, and welfare needs in some of today's more stringent, code-driven spaces. Since many of these innovations are recent, design and specification teams may not be aware of all the critical success factors that make interior sliding doors a viable option in these areas. To guide proper specification, the following are some of the most essential considerations, from accessibility to fire- and life-safety protection.
Accessibility features
The Americans with Disabilities Act (ADA) National Network says, "People with disabilities are the largest and fastest-growing minority in the United States. They control $1 trillion in total annual income. They have friends, family members, and business colleagues who accompany them to events and outings[3]." To better accommodate this growing minority in building design, professionals use International Code Council (ICC) A117.1, Accessible and Usable Buildings and Facilities. ICC A117.1 helps designers "achieve uniformity in the technical design criteria in building codes that allow a person with a physical disability[4], such as the inability to walk, blindness, or deafness, to independently get to, enter, and use a facility."
As design professionals know, businesses and facilities can meet the needs of this growing population and maintain compliance with ADA standards by installing wide-open and easily accessible doors.
According to the ADA Compliance Directory[5], ADA standards say, "doorways shall have a minimum clear opening of 32 in. (815 mm) with the door open 90 degrees, measured between the face of the door and the opposite stop."
While traditional swing doors can meet the criteria, limitations can arise in space-restricted areas. Consider cramped bathrooms and hospital rooms, where hallways are tight and square footage is at a premium. By comparison, the configuration of sliding door systems allows them to comply more easily with these standards. The doors slide along an existing wall or into a pocket, impacting less space through door operations. They are often also easier to maneuver around and through since occupants do not have to get out of the way of the door swing.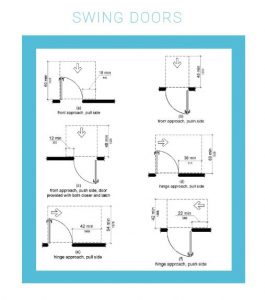 While many design teams are familiar with sliding doors' ability to meet these basic clearance requirements, they are just the start of their accessible design capabilities. The following considerations demonstrate how building professionals can use the sleek doors to not only meet ADA standards, but also increase accessibility to address the needs of all occupants.
Space savings
Space efficiency is a key factor when it comes to door accessibility. Consider the 90-degree swing path requirement and approach clearance requirements of 800 mm (32 in.), enforced by ADA. By removing the 90-degree arc of space needed for a swing door to open, design teams can provide up to an additional 3 m2 (30 sf) of usable room. It is important to note the specific amount of area saved with sliding doors depends on the swing door direction and placement of the door opening within the wall (Figure 1). Space savings can be realized on both sides of the wall, including in the room and the opposing corridor.
On a functional level, the space savings provided by sliding door systems can help occupants in wheelchairs or with limited mobility glide through interiors without any hassle, further improving usability. The doors also increase safety for occupants by removing the risk of being hit by a swinging door when moving down a congested hallway.
In application, interior sliding door systems' space efficiency is particularly suited for commercial areas with limited square footage. Fluid, open pathways in healthcare facility restrooms, for example, are critical to unencumbered staff and patient navigation. By removing the arc of space needed for a swing door to open and maximizing room in these cramped quarters, design teams can improve ease of access. This was the case in Houston Methodist Hospital's new Paula and Joseph C. "Rusty" Walter III Tower.
In acute care and intensive care unit patient rooms, the design team specified top-hung, barn-door style interior sliding doors. The sliding doors were specifically selected as restroom dividers to free up space and allow patients and staff to easily navigate without losing critical room.
Hardware
Door handles need to be accessible to all building occupants to maintain compliance with accessibility laws. This includes people using wheelchairs, as well as those who may need to use an arm or prosthesis to open a door. As such, hardware must be no higher than 1200 mm (48 in.) from the ground and easy for occupants to grasp or use. Meeting this criterion, interior sliding door systems are now available with proper handle clearances and with hardware solutions that do not require pinching, twisting, grasping, or special knowledge to operate such as:
ADA thumb turn lock with occupancy indicators;
ADA self-latching mortise;
ADA-compliant flush pulls;
single-action egress with lever; and
magnetic lock and electric strike key card/access control.
Many current commercial-grade locking and latching systems allow sliding doors to maintain the same look across keying systems. This helps keep the door systems code-compliant, while not compromising on aesthetics.
Operability
To further improve ease of access for occupants, specific door configurations are available to allow for unencumbered navigation. For example, interior sliding doors can be configured in a surface-mounted, top-hung, barn door style, rather than as a pocket door. Doors with this orientation slide along heavy-duty, quiet rollers, instead of traditional floor tracks, which can hinder foot traffic and movement.
Some interior sliding door systems require less than 2 kg (5 lb) of pressure of operating force to open. This helps occupants with disabilities avoid excessive effort to open a door. Another way to enhance accessibility is to specify interior commercial sliding door systems with self-closing capabilities. This is a key benefit in hospitals or healthcare centers, as it reduces strain on occupants with limited mobility and nursing staff carrying heavy loads. It is also beneficial in areas where infection control, air infiltration, or security is a concern.
Taking accessible design to the next level, some interior sliding door manufacturers now offer automation. For example, low-energy operators with battery backup and safety sensors are available as add-on features, and can be helpful to those with limited mobility. All they have to do is press a button or wave to activate the door.
Privacy enhancements
Another important consideration when specifying interior sliding door systems is their ability to provide privacy for occupants. In the past, sliding doors ranked lower than traditional swing doors with respect to sound attenuation. This was largely due to the difficulty of sealing all sides of a sliding door in the closed position, which resulted in leaky gaps for noise transfer. The problem was even more pronounced as interior doors are one of the weakest links in a wall assembly. Doors and openings have lower sound attenuation than the surrounding wall, which is thick, multilayered, and free of gaps.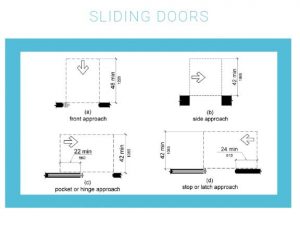 Due to poor acoustical performance, design professionals stayed away from specifying interior sliding door systems in areas where privacy is valued or codified in law. Consider the Health Insurance Portability and Accountability Act (HIPAA) and the Family Educational Rights and Privacy Act (FERPA)—these laws have been put in place to safeguard the privacy of the occupant. For instance, in healthcare and education facilities, doctors or students must not be overheard when discussing a private matter with a medical professional or a guidance counselor. With new advances in sound-attenuation mechanisms and operating systems, the doors are now a viable option for areas of all types, performing on par with, or close to, traditional swing doors.
Sound-attenuation mechanisms
Interior sliding doors are now available with acoustic jamb gaskets and drop-down bottom seal features. Sealing all four sides of the sliding door leaf makes for a tight perimeter, improving sound abatement properties. As such, sliding door systems can now provide noise isolation class (NIC) values of up to 39. They can also meet or exceed the Facility Guidelines Institute's (FGI's) sound transmission class (STC) target for speech privacy in exam rooms, making interior sliding doors suitable for use when designing spaces for private conversations or quietness (the Facility Guidelines Institute [FGI] develops guidelines for the design and construction of hospitals and other healthcare facilities).
Sound attenuation operating systems
With proper specification, interior sliding door systems can also reduce overall noise transfer through spaces. For example, door systems are now available with a soft-close dampening system for noise and slam reduction. Soft closers also perform the task of preventing a door from rolling open without an intentional act of setting it in motion. In many cases, this negates the need for a latch, further reducing operational noise.
While interior sliding doors with these capabilities have no direct bearing on overall NIC values, they help keep environments distraction free, creating an element of soundproofing. This is a key benefit as excess noise can adversely affect occupant satisfaction and overall well-being in a host of settings. For example, the Ceilings and Interior Systems Construction Association (CISCA) underscores the detrimental effects of sound in healthcare facilities.
"Poor acoustical conditions[8] may have a negative impact on a patient's physiological health and increase their chances of being readmitted to the hospital," it says.
In healthcare environments, it has also been found noise can negatively impact patients and staff, from elevating heart rate and blood pressure to causing employee burnout[9].
Fire- and life-safety features
Along with privacy concerns, fire- and life-safety codes have become increasingly stringent in the last decade. Interior sliding door systems, while desirable from a space efficiency and design standpoint, simply were not able to provide fire-protection of any kind, thereby limiting use. As of 2018, door assembly innovations sidelined this challenge.
Fire ratings
Surface-mounted, top-hung, single-leaf wood sliding doors with the ability to defend against the spread of flames and smoke for up to 45 minutes are now available. These doors have earned the Underwriters Laboratories (UL) 10B, Standard for Fire Tests of Door Assemblies, designation. This is a significant improvement to early-generation sliding doors, which had no fire safety measures in place and could not allow for safe egress.
Today's fire-rated interior sliding doors also come with acoustic seals on three sides, closing perimeter gaps that are a common challenge with sliding door performance. The seals and gasketing play a secondary, yet crucial role in limiting air and smoke infiltration, allowing the doors to pass UL 1784, Standard for Safety of Air Leakage Tests of Door Assemblies. Doors tested in compliance with this standard meet the smoke and draft control door assembly provisions in the International Building Code (IBC).
With these capabilities, current fire-rated interior sliding door systems can be used in myriad commercial settings. However, they are important in large traffic areas such as schools, healthcare centers, and hotels where ratings are more commonly a design constraint and life safety a key factor. With this in mind, it is important to note high occupancy buildings and fire ratings go hand in hand. Fire-rated doors help buy crucial time for people to the exit the building and for firefighters to arrive and extinguish flames.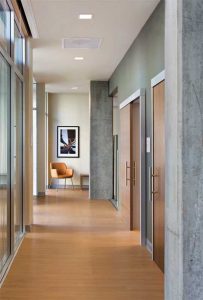 Aesthetic considerations
While functionality is a key consideration for building design professionals, so, too, is form. The good news is functionality does not have to trump aesthetics when it comes to interior sliding door systems. Door manufacturers now offer a wide range of styles to integrate with any interior design and to coordinate between swing and sliding door openings.
Basic customization
Design professionals can customize interior sliding doors to meet exact project needs. Options include wood door leafs in a range of species, stain options, or prepared for field paint. Design teams also have their choice of plastic laminates, aluminum stile and rail doors, and a variety of glazing infill panels. Specifiers can choose to incorporate the wood door leaves within the sliding door spec section or, if they would prefer, to reference the wood door section (to keep the door specification consistent across swing and sliding systems).
Glazing options
As noted above, interior sliding door systems are compatible with glazing infills and panels. They are available in a variety of translucencies to enhance visibility and style, while balancing visual privacy needs. Customization is also a viable option for many of these offerings, with manufacturers allowing graphics and project-specific patterns, and specialty products such as integral blinds or even switchable privacy glazing.
Design teams can also incorporate sliding doors into assemblies with sidelites or transoms, speaking to trends of transparency, privacy, and bringing the outside in, all of which contribute to employee health and happiness. This was the reason Coastal Community Bank used sliding glass doors in their renovated office. Through the use of these doors, the architectural firm that designed the project was able to allow natural light to pass beyond the office doors and into the rest of the building and cubicle areas. The balanced use of clear and frosted glass in this application preserved privacy in the offices while maintaining visual communication to the spaces outside of the doors. In specifying glass for door leaves of fixed transoms, or sidelites, it is advisable to keep safety glazing requirements in mind. If acoustics are a must, one can consider specifying laminated glass for good performance.
Barn-door style
Enhanced operability and functionality are not the only benefits of interior sliding doors configured in the barn-door style. They provide a contemporary look with simple, clean lines and trendy surface mounted, top-hung style. With the variety of options available today, they allow design teams to capitalize on one of today's most popular door trends, whether the look is rustic or formal.
Above and beyond
Sliding doors have come a long way in recent years, and at the rate technology is advancing, they can only be expected to continue that growth. As even more spaces are open to realizing the benefits of sliding doors, it will be crucial to contact manufacturers and suppliers on the resources and design support they can provide, particularly with regards to the latest options and functionality that can be specified in this fast advancing product sector.
Endnotes:
[Image]: https://www.constructionspecifier.com/wp-content/uploads/2020/05/Updated-Opener.jpg
[Image]: https://www.constructionspecifier.com/wp-content/uploads/2020/05/Figure-1.jpg
events and outings: http://adata.org/factsheet/opening-doors-everyone
physical disability: http://www.buildings.com/news/industry-news/articleid/21209/title/new-ada-accessibility-update-to-icc-a117-1-standard
ADA Compliance Directory: http://www.ada-compliance.com/ada-compliance/ada-doors.html
[Image]: https://www.constructionspecifier.com/wp-content/uploads/2020/05/Figure-2.jpg
[Image]: https://www.constructionspecifier.com/wp-content/uploads/2020/05/Figure-3.jpg
Poor acoustical conditions: http://www.cisca.org/files/public/Acoustics%20in%20Schools_CISCA.pdf
causing employee burnout: http://www.healthdesign.org/sites/default/files/Sound%20Control.pdf
[Image]: https://www.constructionspecifier.com/wp-content/uploads/2020/05/Figure-4.jpg
tysen.gannon@allegion.com: mailto:tysen.gannon@allegion.com
Source URL: https://www.constructionspecifier.com/new-age-sliding-doors-elevate-occupant-comfort/
---