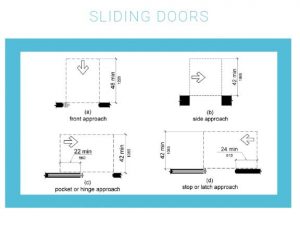 Due to poor acoustical performance, design professionals stayed away from specifying interior sliding door systems in areas where privacy is valued or codified in law. Consider the Health Insurance Portability and Accountability Act (HIPAA) and the Family Educational Rights and Privacy Act (FERPA)—these laws have been put in place to safeguard the privacy of the occupant. For instance, in healthcare and education facilities, doctors or students must not be overheard when discussing a private matter with a medical professional or a guidance counselor. With new advances in sound-attenuation mechanisms and operating systems, the doors are now a viable option for areas of all types, performing on par with, or close to, traditional swing doors.
Sound-attenuation mechanisms
Interior sliding doors are now available with acoustic jamb gaskets and drop-down bottom seal features. Sealing all four sides of the sliding door leaf makes for a tight perimeter, improving sound abatement properties. As such, sliding door systems can now provide noise isolation class (NIC) values of up to 39. They can also meet or exceed the Facility Guidelines Institute's (FGI's) sound transmission class (STC) target for speech privacy in exam rooms, making interior sliding doors suitable for use when designing spaces for private conversations or quietness (the Facility Guidelines Institute [FGI] develops guidelines for the design and construction of hospitals and other healthcare facilities).
Sound attenuation operating systems
With proper specification, interior sliding door systems can also reduce overall noise transfer through spaces. For example, door systems are now available with a soft-close dampening system for noise and slam reduction. Soft closers also perform the task of preventing a door from rolling open without an intentional act of setting it in motion. In many cases, this negates the need for a latch, further reducing operational noise.
While interior sliding doors with these capabilities have no direct bearing on overall NIC values, they help keep environments distraction free, creating an element of soundproofing. This is a key benefit as excess noise can adversely affect occupant satisfaction and overall well-being in a host of settings. For example, the Ceilings and Interior Systems Construction Association (CISCA) underscores the detrimental effects of sound in healthcare facilities.
"Poor acoustical conditions may have a negative impact on a patient's physiological health and increase their chances of being readmitted to the hospital," it says.
In healthcare environments, it has also been found noise can negatively impact patients and staff, from elevating heart rate and blood pressure to causing employee burnout.
Fire- and life-safety features
Along with privacy concerns, fire- and life-safety codes have become increasingly stringent in the last decade. Interior sliding door systems, while desirable from a space efficiency and design standpoint, simply were not able to provide fire-protection of any kind, thereby limiting use. As of 2018, door assembly innovations sidelined this challenge.
Fire ratings
Surface-mounted, top-hung, single-leaf wood sliding doors with the ability to defend against the spread of flames and smoke for up to 45 minutes are now available. These doors have earned the Underwriters Laboratories (UL) 10B, Standard for Fire Tests of Door Assemblies, designation. This is a significant improvement to early-generation sliding doors, which had no fire safety measures in place and could not allow for safe egress.
Today's fire-rated interior sliding doors also come with acoustic seals on three sides, closing perimeter gaps that are a common challenge with sliding door performance. The seals and gasketing play a secondary, yet crucial role in limiting air and smoke infiltration, allowing the doors to pass UL 1784, Standard for Safety of Air Leakage Tests of Door Assemblies. Doors tested in compliance with this standard meet the smoke and draft control door assembly provisions in the International Building Code (IBC).
With these capabilities, current fire-rated interior sliding door systems can be used in myriad commercial settings. However, they are important in large traffic areas such as schools, healthcare centers, and hotels where ratings are more commonly a design constraint and life safety a key factor. With this in mind, it is important to note high occupancy buildings and fire ratings go hand in hand. Fire-rated doors help buy crucial time for people to the exit the building and for firefighters to arrive and extinguish flames.