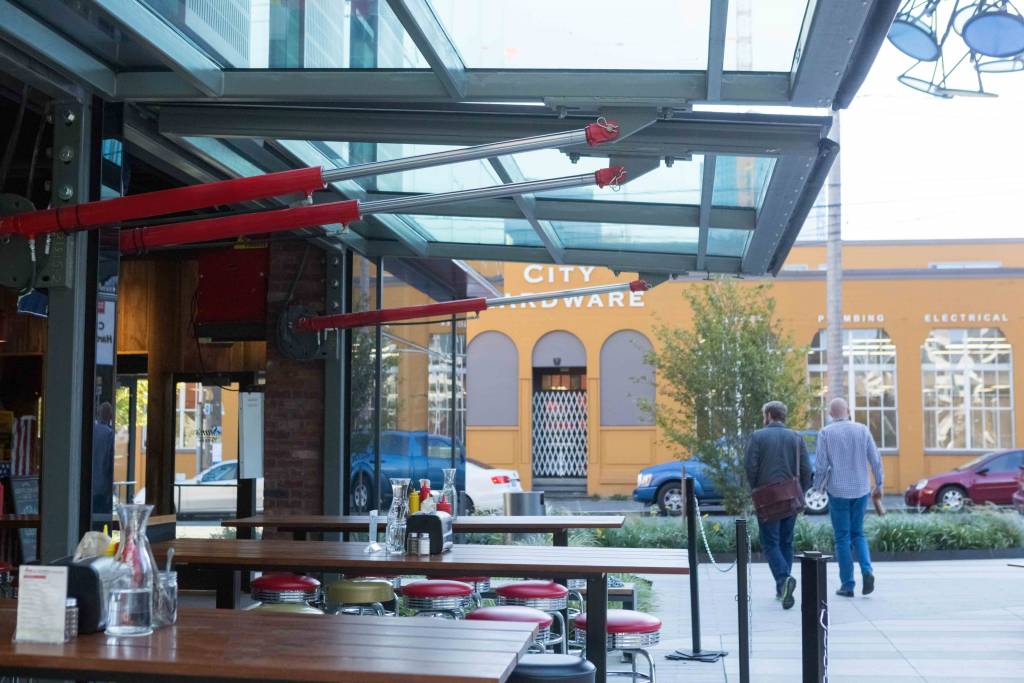 Sam's Tavern in Seattle, Washington, has been described as a "whimsical bar." In order to increase the restaurant and bar's overall capacity, owner James Snyder opted for two hydraulic doors, designed to open to an outside courtyard. Clad in glass to maximize natural light, the doors lay at a flat 90 degree angle when fully open, which creates a covered patio with additional seating that patrons can enjoy, even on Seattle's many rainy days.
Each custom-made door measures 3.6 m (11.8 ft) wide by 2.7 m (9 ft) tall. To maximize safety, electric photo eye sensors are mounted at floor-level below the doors to prevent the mechanism from closing when an obstruction is detected.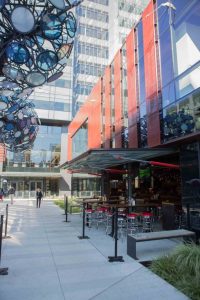 The hydraulic pumps powering the cylinders are mounted inside the building near the doors. In addition to creating extra outdoor space, hydraulic doors were preferred over their bi-fold counterparts because the option lost less headroom.
Project manager Jon Bennion of Lynnwood, Washington-based Crawford Door oversaw the installation.
"The original plan was to mount the hydraulic pump motors on the ceiling, but there was not enough room, so they were mounted above the brick pillars alongside the doors inside the building," said Bennion. "The hydraulic door with its low headroom clearance is very useful."
The installation's cylinders open the doors quickly and quietly. They can be run independently of each other and can be stopped safely at any level.
The hydraulic doors increased the restaurant's overall capacity, with added outdoor seating for about 20 patrons. Additionally, designers were able to customize the appearance to complement the building's overall aesthetics.
"The door has a cool industrial look to it with minimal side room support needed, and has an architectural feel that at the same time can be clad anyway you want," added Bennion. "A lot of what these doors do is give the architect the freedom to design the appearance."