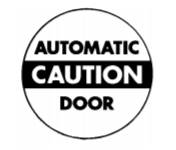 ANSI/BHMA A156.19 requires a 300,000-cycle test with speed checks and specific signage. Power assist doors feature signage with "Easy Open Door," followed by the proper action for operation. Aside from "Caution Automatic Door," low-energy power-operated swinging doors must include knowing act signage. This signage reads "Activate Switch to Operate," "Push to Operate," or "Pull to Operate."
This standard does not regulate doors, finish, or hardware, nor doors which require higher speeds, forces, shorter time delays, or activating sensing devices. Moreover, each door activation described for power assist and low-energy power-operated swinging doors requires a knowing act. Revisions to the prior version of this standard include additional details to the knowing act information—which can similarly be found in ANSI/BHMA 156.10. The intent of this standard is to best prevent injury and entrapment for users.
Power and manual-operated revolving pedestrian doors
ANSI/BHMA A156.27 primarily focuses on manual revolving doors for pedestrian use and power-operated revolving doors, which rotate automatically when approached by pedestrians and some small vehicles. This standard also covers automatic revolving doors with a center shaft, automatic revolving doors with a core, automatic two-wing revolving doors, access-controlled revolving doors, and access-controlled revolving doors with one-way free passage. The included criteria are provisions to reduce the chance of user injury and entrapment.
Each door type within this standard provides regulatory information for enclosure size, door speed, egress, signage, glazing, clearances, obstruction force, slow speed operation, sensors, guard sensors, kinetic energy, position, activation, presence sensor monitoring, and break out force requirements. Egress requirements for revolving doors must include an egress path a minimum of 0.9 m wide.
Additional topics covered in this standard include glazing and emergency stop switches.  Revolving doors for industrial or trained traffic are not covered, and this standard does not attempt to assess any existing factors with respect to custom installations.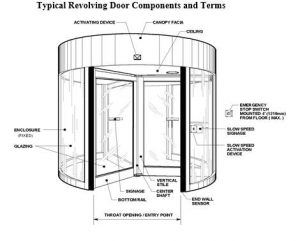 Low-energy power-operated sliding and folding doors
While similar to ANSI/BHMA A156.19, ANSI/BHMA A156.38 covers sliding doors as opposed to swinging doors. As with the other standard, this standard is for pedestrian use and some small vehicular use, and the activation of all doors described in this standard requires a knowing act.
Requirements include the 300,000-cycle durability test and mandates for specific signage specifications dependent on varying factors. Signage involved with this standard includes the familiar "Automatic Door," "Activate Switch to Operate," and the recently updated "Slide to Operate." Intentions for this standard are based on the desire to promote safety when using low-energy power-operated sliding doors.
Low-energy power-operated sliding doors comply with this standard if they open at a maximum speed of 304.8 mm (12 in.) per second, close at a maximum speed of 152.4 mm (6 in.) per second, and remain open for a minimum of five seconds before beginning the closing cycle. Low-energy power-operated folding doors shall open to 90 degrees in a minimum of 4.5 seconds and remain open for no less than five seconds before initiating the closing cycle. Unless provided with a finger guard, these doors require a specific clearance. The opening at the hinge side of the folding door can be less than 6.35 mm (0.25 in.) or a minimum of 19.05 mm (0.75 in.) wide with the door in any position.

Knowing act requirements and switch location have been revised for ANSI/BHMA A156.38. This standard does not assess any existing factors with respect to custom design installations. Doors requiring higher speeds, forces, shorter time delays, and activating sensing devices are also not covered and, as appropriate, shall comply with ANSI/BHMA A156.10.
Conclusion
All four of these standards regarding power-operated doors have been adopted by the International Building Code (IBC) and the National Fire Protection Life Safety Code (NFPA 101). All four standards combined aggregate various safety means and implications. Each standard, though similar in content coverage and topic, grasps a deep understanding of the needs for public power-operated doors, and the importance of accessibility and safe egress. Additional information can be found by referencing the full individual standards and one-page Hardware Highlights offered on the BHMA website.
For more than 19 years, Michael Tierney has served as the product standards coordinator for the Builders Hardware Manufacturers Association (BHMA), where he coordinates the development and revision of BHMA's performance standards for building hardware products. Tierney came to BHMA following a 20-year career in manufacturing management at United Technologies, Honeywell, Black and Decker, and Yale Security. He is a principal member on technical committees for the National Fire Protection Association; the A117 Committee for Accessible Buildings, and the American Society for Testing and Materials (ASTM). He is also chair of the ANSI TAG 162 for Doors and Hardware.