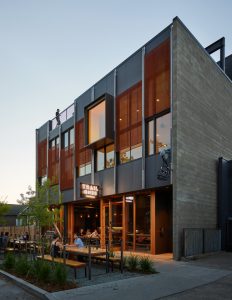 The Klotski, a three-story, mixed-use infill building in Seattle's Ballard neighborhood is noted for its mix of commercial, manufacturing, and residential uses that reflect the eclectic vibrancy and gritty nature of its surroundings with a shifting façade.
Riffing on the idea of shifting uses and planes, the design by Graham Baba Architects takes its visual cue from a sliding tile puzzle, also known as a klotski, where the object is to rearrange tiles to solve the puzzle. The puzzle is expressed on the south-facing exterior of the building through the use of 2 x 3-m (7 x10-ft) perforated metal screens. The screens slide up and down, enabling users to change the screens position for sun shading and privacy and in response to seasonal variations in daylight.
The 933-m2 (10,041-sf) concrete masonry unit (CMU) and steel-framed building houses a beer hall, office, maker space, studio, and a small caretaker's apartment.
At street level, the building is set back from the property line by several feet to provide space for exterior dining. The glazing, composed of wood/glass sliders and fixed units, reveal the activity inside to passersby.
The building's massing steps back at the top floor to create an outdoor deck for the studio and apartment. The glazed, second-story wall of windows feature a steel-wrapped bay window extending out over the sidewalk.
Inside, the clear-spanning steel structure and brace frames are exposed, complementing concrete floors and wood decking. An open floor plan and 5-m (17-ft) high ceilings create a loft-like industrial aesthetic for the office housed within.
Conceived as a maker space studio, a self-contained mezzanine accessed via stairwells and elevator floats within the second floor volume. A studio and caretaker's unit occupy the top level. Roof decks and an interior courtyard round out the spaces.
Sustainable features include rainwater cisterns that collect and recycle all onsite rainwater, rooftop solar panels, energy efficient radiant heating, thermally efficient, operable windows on the north and south sides of the building to encourage cross ventilation, and operable sunshades on the exterior.