by Glen Clapper, AIA, LEED AP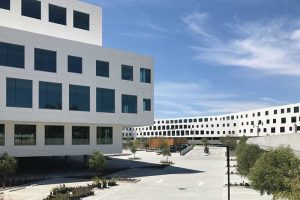 Thin fired-clay brick veneer is increasingly specified for multistory, wood-framed construction to gain the flexible aesthetics, durability, and performance benefits of traditional anchored brick veneer at a lower cost.
Also known as adhered veneer, thin brick is employed for a range of new and existing commercial and residential exterior and interior applications including multifamily projects, educational facilities, offices, hospitals, restaurants, malls, kitchens, basements, accent walls, and remodeling homes.
As a versatile and economical alternative to traditional clay brick, thin brick can be employed when building plans or budgets may not permit standard brick masonry. This is particularly true in regions requiring greater thickness of insulation or higher R-values to meet energy codes when the project team wants to minimize the wall system's total thickness.
Thin brick veneer offers virtually limitless design potential through many colors, textures, and overall appearance.
Using thin brick wall systems for wood-framed construction permits lighter dead loads for the building's structure while providing some of the beneficial properties of clay brick masonry. Just like full bed depth units, the color of thin clay brick units does not fade over time. Therefore, they do not need to be repainted. Thin brick wall assemblies can also achieve a fire-resistant rating when constructed according to Chapter 7, "Fire and Smoke Protection Features" of the International Building Code (IBC). While the overall installation cost, material, and labor of thin brick may equal anchored brick veneer, cost savings could be realized because the structure that is required to support conventional anchored brick veneer may not be necessary.
Former Brick in Architecture Award winners incorporating thin brick include The Brickyard in Los Angeles, California, and Mercy Health West Hospital in Cincinnati, Ohio.
The exterior façade of Mercy Health West is composed of 11 colors and 19 shapes of glazed thin brick. The thin masonry veneer was used in conjunction with a fully insulated wall system allowing it to reduce energy consumption and related utility costs by 10 to 40 percent. Triple-pane glazing, coupled with the insulated precast panels, also provides an efficient thermal envelope to reduce mechanical demand and improve patient comfort.
The Brickyard commercial office buildings in Los Angeles were designed to attract young workers who traditionally gravitate toward older buildings—mills, factories, and warehouses—with raw, exposed materials and the potential for large, open-floor plans to support a creative office environment. The white, thin brick façade and oversized punched windows are a modern reinterpretation of a mill's building aesthetics.
The walls of traditional brick buildings have a thickness derived from the size of the brick, a fact giving those buildings a sense of stoutness and mass. The walls at the Brickyard, in contrast, use refined modern thin brick to create a wall that feels thin and taut, resulting in the appearance of light, white volumes hovering above the landscape below. Making use of the narrow section afforded by thin brick facing, the wall system packs a great deal of insulation into a compact, economical wall cavity in order to minimize heating and cooling loads in all weather conditions.