Different agencies define cool roofing requirements based on the products meeting specific minimums in terms of SR, SE, or SRI. The Cool Roof Rating Council (CRRC) provides a listing of products rated for SR, SE, and SRI based on a defined testing protocol. CRRC also offers a labeling program to help manufacturers identify how their products perform on cool roofing measurements. Per CRRC, all testing is performed according to specific ASTM standards and weathering protocols applicable to the respective cool roofing measurement. Those measurements can be compared to the minimum cool roofing standards identified by various national, state, and local agencies. For example, American Society of Heating, Refrigerating and Air-Conditioning Engineers (ASHRAE) 189.1, Standard for the Design of High-Performance Green Buildings, along with the Leadership in Energy and Environmental Design (LEED) rating program for new construction, require a minimum SRI of 78 to meet cool roofing requirements. Energy Star requires SR 0.65 on new roof surfaces and a three-year aged SR of 0.50. Design professionals should review manufacturers' specifications and labels to ensure the selected roof coating has met the standards for new and existing roofs as defined by a national agency like ASHRAE, LEED, or Energy Star. Cool, reflective coatings can be used to transform existing dark membranes such as ethylene propylene diene monomer (EPDM) or asphalt-based roofing systems into energy-saving options.
Roof coating installation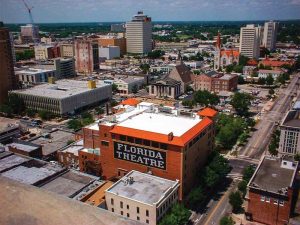 Building downtime and disruption to occupants during renovations are major concerns for owners. It is difficult or nearly impossible for certain buildings in urban areas to close even temporarily. For example, hospitals have patients, schools children, apartments tenants, and stores patrons. Roof coatings can help solve the downtime problem by eliminating the need to tear off the existing roof and, in some instances, by offering low-odor and/or low-volatile organic compound (VOC) installation. The building can typically remain in use while the roof coating is installed. While various roofing technologies require different levels of skill, contractors tend to appreciate the relatively straightforward roof coating installation process. Most roof coatings can be sprayed or applied with a brush or roller, making installation equipment affordable and easy to use. Additionally, coatings form a monolithic membrane (i.e. zero seams) onsite without the high-skill mandate typically accompanying more traditional roof membranes with seams. However, it is important to note coating installers should achieve the minimum dry mil thickness required by the manufacturer. Each manufacturer would have different requirements to measure mil thickness. Some manufacturers may cut out different sample sections of installed dried coating from various areas of the roof to physically measure the thickness.
When the existing substrates are structurally and functionally suitable, city buildings are ideal candidates for roof coating applications. An existing roof must meet certain criteria in order to accommodate a coating. It is recommended to always refer to the manufacturer's requirements prior to specifying a coating over an existing roof or substrate.
Rising landfill costs are affecting reroofing costs when tear-offs are performed. According to the New York Post, New York City's trash export rate has skyrocketed from $63.39 in 2009 to $129.81 in 2016. Roofing materials contribute to at least 10 percent of all landfill waste. This fact may motivate building owners to opt out of tearing off an existing roof and choose to extend a roof's service life with a coating.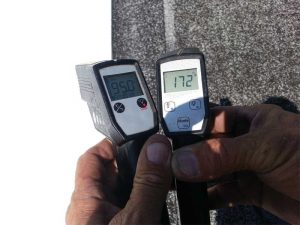 The successful installation of roof coatings is dependent on both substrate preparation and the actual coating installation. It is recommended to always refer to the manufacturer's coatings installation guidelines prior to specifying, preparing, or installing roof coating's or liquid-applied roof membranes. These guidelines will typically advise how to perform an adhesion test during the bid process to ensure all parties agree on which product is the best solution for the project. Once the scope of work is specified, certain preparation guidelines can be generally followed. Preparation usually starts with a moisture survey or scan of the existing roof. This will identify wet areas that should be removed and replaced with a similar technology. Repairs should then be made to the existing roof substrate where leaks, cracks, tears, or buckling occurred. Fasteners must be resecured, excessive gaps resealed, and the seams repaired according to the guidelines for the roofing material.
The surface is then cleaned with a stiff brush to remove particulates, treated with a recommended cleaning solution, and finally pressure-washed. After the surface has been properly prepared, a primer is recommended, depending on the type of substrate. Primers enhance the adhesion of a roof coating and can help block bleed-through of the original substrate.The installation of the reflective roof coating completes the process, leaving a monolithic design that can help protect against leaks and flash penetrations of the assembly and create an energy efficient system.