Coating technologies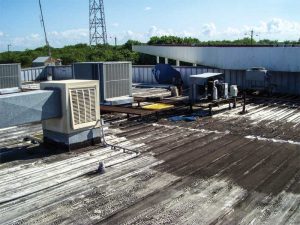 As mentioned earlier, transporting materials to the roof of a high-rise building may be logistically challenging. Roof coatings or liquid-applied roof membranes solve the inherent problem by being more portable than traditional materials. Coatings typically come in 18.93-L (5-gal) buckets, 208-L (55-gal) drums, or 1041-L (275-gal) totes that can be easily moved from the ground to the roof or to various staging areas or can be pumped to the roof. The technology enclosed within those buckets makes roof coatings and liquid-applied roof membranes effective.
By far, the most popular coatings technology uses acrylic resins as the base polymer. Acrylic coating technology is typically water based and has the benefit of being able to be applied over multiple substrate types, including modified bitumen (mob-bit), built-up, concrete, metal, and single-ply systems. Additionally, acrylics usually have low VOC content and can be installed at 10 C (50 F) temperatures and rising. Areas experiencing colder climates have limited installation windows and specifiers should be cognizant of seasonal constraints when detailing coatings. Acrylic technology is a versatile option, easy to install with either a sprayer or roller and simple to maintain.
White acrylic coatings are highly reflective and can help cities reduce the urban heat island effect when applied on rooftops. However, specifiers are increasingly using rooftops as canvases to showcase a building's culture and sense of style, and even for advertising space. Especially in urban areas with airports, rooftops offer building owners an opportunity to present signage, branding, or creative flair to flyover passengers. Due to harsh rooftop conditions, artscapes must be created with coatings that are color stable and can resist damage from ultraviolet (UV) rays. PVDF is a suitable technology to create long-lasting designs on rooftops. Applied as a finish coat after a roof coating system (e.g. acrylic) is installed, PVDF coatings are more color stable, perform well against abrasion, and provide protection against biological growth. Additionally, many PVDFs are listed by the Underwriters Laboratories (UL) as Class A fluid-applied coating systems, can be Energy Star-certified, and are rated by CRRC. PVDFs give specifiers design freedom while offering the same cool benefits as white coatings.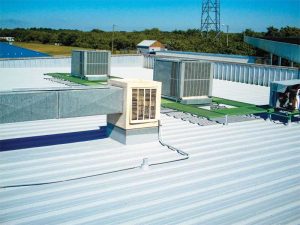 While acrylic roof coatings are recognized as durable and easy to install, silicone technology offers moisture curing and protection against ponding water. These technologies are growing in popularity due to their longer-term elastomeric properties and higher solids content. In terms of installation, contractors appreciate silicone's no-mix, single-component composition. However, designers should be cautious when specifying silicones for recoating purposes. Initial silicone applications achieve excellent adhesion to primed concrete, masonry, metal, and wood surfaces. After the initial application though, only silicone-based technologies can be used for recoating.
Conclusion
As temperatures continue to rise, urban planners are increasingly looking for easy-to-implement strategies to decrease the urban heat island effect and increase energy efficiency. The majority of city buildings already exist, and thus any green tactics must be carried out through retrofitting processes. Upgrading the building envelope and HVAC systems is expensive and requires building downtime, barriers that may stop building owners from implementing any energy-saving strategies. An alternative exists overhead, as white, reflective roofs can reduce rooftop temperatures by as much as 10 C (50 F). This can significantly reduce the overall heat that can transfer into the building, improve building occupant safety, help reduce the energy requirements of air-conditioning systems, and reduce the city's urban heat island effect. Reflective roof coatings are a sustainable solution to transform existing dark roofs into light-reflecting, high-performing monolithic roofs. Currently, summers in Boston average 26 C (79 F). In 2100, summers in the city are projected to average 32 C (89 F), the same average temperature experienced today by North Miami Beach in Florida. Are city planners ready for the heat?