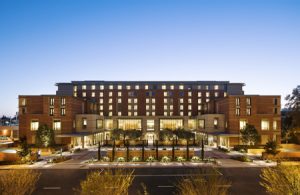 The University of California Los Angeles' (UCLA's) Meyer and Renee Luskin Conference Center has set a new standard for sustainability. The $162-million building earned a Leadership in Energy and Environmental Design (LEED) Platinum certification and is considered one of the most sustainable hotels in the United States.
Acoustic performance and access to natural light were key contributors to the conference center's sustainability goals. Windows dominate the lobby and meeting rooms, flooding the interior with sunlight. High-performance window and wall systems, terrace doors, and a curtain wall helped manage exterior noise and interior comfort, while contributing to the building's overall energy efficiency.
Dual-purpose design
Hornberger + Worstell, in partnership with associate architects Bohlin Cywinski Jackson, designed the 27,313-m2 (294,000-sf), seven-story building for multipurpose use. It will host conferences and offer accommodations. It has 254 guest rooms and more than 2323 m2 (25,000 sf) of event space, including 24 meeting rooms, a tiered classroom, and a ballroom for 750 guests. The building also has a restaurant and lounge, onsite catering services, fitness and business centers, and an outdoor event terrace.
More than 929 m2 (10,000 sf) of curtain wall was installed on the entry side of the conference center. Integrated within it are more than a dozen zero-sightline, screened awning vents, and four roof access casements. Additionally, more than 300 units of offset windows and 20 units of project-in terrace doors with Juliet rails were installed.
Performance
The windows and doors were tested to meet the American Architectural Manufacturers Association/Window and Door Manufacturers Association/Canadian Standards Association (AAMA/WDMA/CSA) 101/I.S.2/A440-11, , North American Fenestration Standard/Specification for Windows, Doors, and Skylights (NAFS). The standard includes stringent criteria for air, water, and structural performance.
All products used on the conference center are also listed in the National Fenestration Ratings Council (NFRC) Certified Products Directory. Through NFRC's libraries of approved frames, glass, and spacer components, the manufacturers' engineering team configured its products for the conference center, and obtained the required U-factor, solar heat gain coefficient, and visible transmittance rating. Performance values were then compared to the energy requirements of California Energy Code (CEC) to confirm compliance.
To validate the performance and appearance of these systems, the manufacturer provided a full-scale mockup. This step allowed for cost-effective adjustments prior to manufacturing all of the systems as ordered, and ensured the final systems met the required specifications and intended architectural vision.
Aesthetics
For a uniform look on the conference center, the terrace doors and windows have matching 114-mm (4.5-in.) deep aluminum framing members. Adding to the building's distinctive appearance, the windows' glass pane is recessed 32 mm (1.25 in.) from the exterior face and complemented with custom, aluminum panning profiles.
The finishing was done with aluminum framing members and panned in bronze color tones. The metallic finishes were applied using a three-coat, 70 percent polyvinylidene fluoride (PVDF) resin-based mica coating. These coatings meet AAMA 2605, Voluntary Specification, Performance Requirements, and Test Procedures for Superior-performing Organic Coatings on Aluminum Extrusions and Panels, and involves withstanding more than 4000 hours of salt spray and humidity. The painted coatings exhibit resistance to humidity, color change, chalk, gloss loss, and chemicals to ensure long lasting, durable finishes.
Comfort and accessibility
With a high volume of students circulating throughout the UCLA campus grounds, acoustical performance for the conference center was a priority. The majority of the systems used meet a sound transmission coefficient (STC) of 32, and the windows and doors facing the athletic venue meet a higher STC of 35 to 38.
Along with acoustic comfort, guests get a comfortable indoor temperature in the California sun with solar-control, low-emissivity (low-e), insulating glass, and the windows and doors' polyamide thermal barriers. A custom air vent at the top of the windows integrates with the conference center's HVAC system. Depending on the weather, the windows' air vents and terrace doors can be opened for natural ventilation. The combination of high thermal performance glass and operable doors also helps to further reduce the building's HVAC load and associated energy use.
For comfort and access, the conference center is compliant with the Americans with Disabilities Act (ADA) requirements. This includes casement units that have ADA hardware. They are tested to meet AAMA 513, Standard Laboratory Test Method for Determination of Forces and Motions Required to Activate Operable Parts of Operable Windows and Doors in Accessible Spaces, opening with less than a 2-kg (5-lb) operating force. Other accessible building features include entrances and exits, guest rooms, meeting spaces, parking area, lobby, service counters, restaurant, and bathrooms.
Sustainability
Other components of the building's construction were designed for maximum sustainability: the landscaping is drought-tolerant; many of the materials came from recyclable and renewable resources, including 92 percent of the steel framing and 50 percent of the wood used tin the project. The building also strives to be a zero-waste facility.