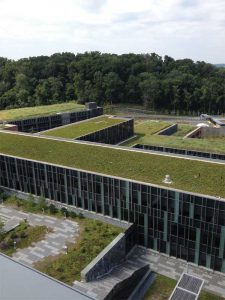 by Tiffany Coppock, AIA, NCARB, CDT, LEED AP
Fusing function and form, commercial building roofs in the United States are opening up new vantage points for taking in iconic cities, landmarks, and waterways. As local ordinances make protected membrane roof assemblies (PMRAs) more attractive to designers, they are also growing in sheer size. Some PMRAs measure more than 46,452 m2 (500,000 sf) and a network of vegetative roof assemblies (VRAs) in Washington, D.C., spans nearly a mile of waterfront. Whether topping federal buildings, high-end hotels, or event centers, VRAs support sustainability efforts, add beauty, and serve as multipurpose gathering spaces.
These high-performing roof assemblies also:
manage stormwater runoff while complying with more rigorous codes;
prolong the life of the roof;
provide a surface to host concerts and events without adding weight to the structure below;
reduce heat islands in the city and surrounding area; and
maintain habitat for local ecosystems.
New design trends
Few areas of the enclosure provide so many opportunities to use space creatively, which is one reason why designers continue to integrate VRAs into new rooftops. With so many VRA options available, U.S.-based designers have traditionally looked to Europe for guidelines.
Founded in 1975, the German Landscape Research, Development and Construction Society (FLL) has emerged as an early leader on standards for green roof technology. As an independent third-party organization that studies different vegetative roof assemblies, this organization curated a wealth of knowledge in the design and maintenance of VRAs. Combining these resources with decades of successful VRAs in North America, the U.S. has developed its own testing standards, guidelines, and processes. These improvements are resulting in stronger, more reliable VRAs, offering attractive environmental profiles. Just as significantly, they are inspiring creative adaptation of roof spaces.
An effective PMRA, as referenced in the International Building Code (IBC), requires placing the insulating layer on top of the waterproofing membrane. This assembly protects the membrane from traffic, temperature swings, ultraviolet (UV) exposure, and other damage, ultimately prolonging the life of the membrane, and is the traditional approach for VRA systems and plaza decks in the U.S. and abroad. As noted earlier, today's VRA and plaza deck designs deliver both function and performance.
This article explores three innovative U.S. roofs that reflect emerging design trends as well as analyzes how extruded polystyrene (XPS) insulation supports each roof's performance objectives.
A roof that ropes in strength and low weight-fill
It is hard to imagine the most exciting spot at the Dickies Arena Plaza Deck, Fort Worth, Texas, a rodeo and event venue, might actually be atop the facility, but that is exactly what the design team had in mind when creating the outdoor plaza for this 14,000-seat facility.
Ambitious in scale and architecture, the Dickies Arena was designed to complement Fort Worth's Will Rogers Memorial Center, a historic landmark. According to Eric Nelson, AIA, RID, CCCA, vice-president at HKS, the architect of record for Dickies Arena, the building resembles an opera house more than a rodeo venue when one thinks about the acoustic elements integrated into the building. However, while paying homage to the past via its visual design, HKS gave careful thought to sound quality inside the venue. The design called for many different roofing structures and shapes, including a dome, metal-topped towers, and the multi-use plaza area, which is equipped to handle concerts and many types of public gatherings.