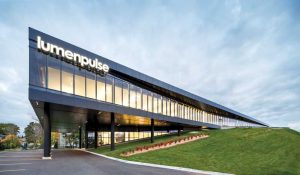 Insulated metal panels (IMPs) are gaining popularity in the construction industry as an innovative and turnkey solution for building envelopes.
Designing with IMPs gives project owners, architects, and contractors a competitive edge in today's design-build market. Thanks to state-of-the-art technology, continuous panels outperform conventional construction systems in their efficiency and longevity, while contributing to the construction of eco-friendly architecture. With their aesthetic appeal and flexibility, IMPs offer limitless design potential, allowing designers to transform their most creative architectural ambitions into reality.
Insulation and durability
IMPs are pre-assembled as a fully integrated building envelope system in an automated manufacturing process, which ensures the panels' quality and uniformity. They are composed of either a rigid polyisocyanurate (ISO) foam core, or stone wool fiber, non-combustible insulation core, for enhanced fire protection, sandwiched between two sheets of pre-finished Z275 (G90) galvanized steel—hence they are also referred to as "sandwich panels."
The panels are lightweight, with a high strength-to-weight ratio and spanning capacity. Due to their structural properties, IMPs require less structural support than conventional wall systems, which require screws every few inches to secure the panels to the structure. Reducing anchor points minimizes potential entry points for air and water infiltration as well as keeping thermal bridging at a minimum. ISO also has thermal resistance values that meets or exceeds energy codes. Continuous IMPs are proven to be in the highest insulated solution for the building envelope.1
The architectural panels' cavity-free design and integrated rainscreen and vapor retarder protect buildings against humidity. The rainscreen is a pressure equalized wall system. In addition to the exterior metal face of the panel "outer leaf" acting as the "rainscreen," the interior metal face of the panel "inner leaf" act as a water, air, and vapor barrier.
These systems are tested to meet the many building code requirements such as ASTM E283, Determining Rate of Air Leakage Through Exterior Windows, Curtain Walls, and Doors Under Specified Pressure Differences Across the Specimen, E330, Standard Test Method for Structural Performance of Exterior Windows, Doors, Skylights and Curtain Walls by Uniform Static Air Pressure Difference, E331, Standard Test Method for Water Penetration of Exterior Windows, Skylights, Doors, and Curtain Walls by Uniform Static Air Pressure Difference, American Architectural Manufacturers Association (AAMA) 501.1, Standard Test Method for Water Penetration of Windows, Curtain Walls, and Doors Using Dynamic Pressure, Underwriters Laboratories of Canada (CAN/ULC)-S741, Standard For Air Barrier Materials – Specification, and S742, Standard For Air Barrier Assemblies – Specification.