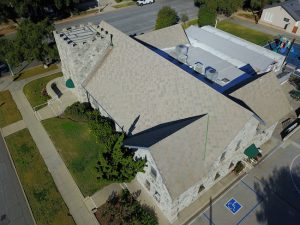 When the old asbestos shingles began to fail on the Cornerstone Bible Church in Glendora, California, a diamond-shaped flat shingle was chosen as a replacement to create a unique roof look. The shape of the .032 aluminum panels, which resembled the original shingles in appearance, was an important factor in their choice of a replacement roofing material.
The designers also loved the idea of the longevity and durability of a metal roof, along with the fire resistance of the panels, which is a concern due to the southern California location of the church.
The metal shingles are more environmentally friendly compared to some other roofing materials, as the aluminum contains recycled content. It can also be recycled at the end of its long service life. Dustyn Howard, president of roofing contracting company Howard & Sons, Inc., based in Corona, California, said they removed the old asbestos shingles, and the metal panels were installed over a solid wood deck.
The aluminum shingles are 400 x 400 mm (15 ¾ x 15 ¾ in.) in size and offer coverage of 343 x 343 mm (13 ½ x 13 ½ in.).  They have an embossed texture with a 70 percent polyvinylidene fluoride (PVDF) paint coating.
A minimum roof slope of 3:12 is required for installation of the shingles. For the Cornerstone Bible Church, two shades of grey were used to create an aesthetically pleasing pattern on the church's roof.
The metal shingles also complement the church's natural stone walls. Prior to the building's opening in 1931, members of the church mined rock quarries in the mountains above the citrus farms of Glendora and brought down large stones, out of which they built the Cornerstone Bible Church.