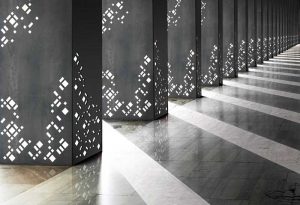 By Ernie Ngo
Structural elements such as columns are a key architectural component of every project. Equipping designers with column solutions that simultaneously meet design standards and building requirements enhance project outcomes. Metal column covers offer an innovative answer to both these standards, ranging from straightforward column covers intended for high-traffic environments, such as airports, to intricate design features in an architecturally significant space.
Various shapes and sizes
Available in various shapes and sizes, unique covers transform basic structural columns by creating dynamic visuals which echo the environment's architecture and stand out as design features. These column covers are adaptable for use in hospitals, corporate offices, hotels, restaurants, schools, and transit areas requiring the structural support needed for large commercial areas. The construction of these high-traffic spaces often includes rough structural concrete supports, steel beams covered in fireproofing, electrical conduits, plumbing, and highways of data management wiring that are essential, yet unsightly. Incorporating metal column covers in design-forward shapes and patterns conceals unattractive details while providing the aesthetic versatility to cater to the needs of every setting and environment.
When considering the shape of column covers within a space, angular or rounded installations have a dramatic impact on the disposition of an environment. Defined, geometric-shaped columns include hard lines and straight edges—offering a clean, modern feel. Striking and dynamic, these angular options evoke alignment and efficiency in commercial settings. For a softer, more calming environment, rounded columns create a greater sense of flow by melding into their surroundings, while providing opportunities for reflective light and seamless movement. Above all, the columns' silhouettes should connect with the design and enhance the architecture providing high visual impact which compliments the design.
While columns are simple to install, contractors and owners appreciate the ease of pre-assembled products. Maximizing durability of columns without compromising on quality design, the array of opportunities for column shapes demonstrates the range of metal and its architectural capabilities.