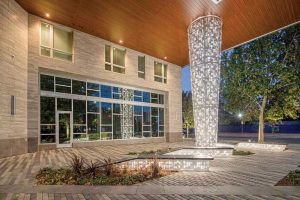 Case study: Hanover Diridon
Outside Hanover Diridon residential building in San Jose, California, a show-stopping backlit laser cut accent column serves as the project's statement feature. Finished in a white matte powder coat, it contrasts with the building's stone exterior, wood accents, and two-toned patio tiles. The backlit column's clean, modern design nods to the duality of San Jose: the traditional residential area and the emerging, technology-driven innovation district that intersects at Hanover Diridon. Complete with 18 stacked panels and backlit features, the column's dimensions and textures create a focal point for residents and passersby at any time of day.
Standing 8.5 m (28 ft) tall and beneath five stories of apartment balconies, the column is fabricated from 3.2 mm (0.125 in.), a slim but sturdy material known for its quality and durability.
Comprising three stacked sections, each with six rounded panels, the top of the column has a 2134 mm (84-in.) diameter and tapers down to 1219 mm (48 in.), creating an optical illusion of precariousness. The unique cone-like shape is an elevated alternative to traditional columns. Internal light-emitting diode (LED) lighting with drivers and white acrylic backing is also included within the column for added depth and luminance beneath the laser cut pattern. Complete with matching bench seating, the column doubles as an illuminated meeting point or gathering space for the building's residents and pedestrians.
Hanover Diridon residential building in San Jose, California, featuring an 8.5 m (28 ft) tall backlit laser cut accent column.
Offering a design-forward solution while maintaining a high standard of cleanliness and stability in large-scale, high-traffic areas is a crucial component of commercial design. Combatting the unique set of design challenges with high occupancy spaces and specifying reliable metal materials, such as stainless steel and aluminum, provides durable, long-lasting interior and exterior columns which blend with the design intent for the space.