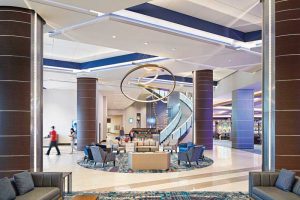 Case study: Choctaw Casino
A recent expansion at the Choctaw Casino in Durant, Oklahoma elevates the existing property into a sleek, contemporary destination for entertainment. Setting the tone and bringing meaningful details to the space, 10 statement columns feature throughout the lobby as a nod to the Choctaw Nation's underlying culture and heritage.
The columns also complement the wood tones and details in the new space. Optimizing movement through organic textures and gradient patterns, the columns dually serve as a point of connection. They create a rhythm throughout the lobby that guides towards other experiences and features within the resort.
Two different columns were designed for the Choctaw expansion: six custom, oblong columns wrapped in an architectural-grade vinyl finish that captures the depth and feel of authentic wood, and four square columns featuring a gradient design, bringing a modern and elevated feel to the casino. The combination of intentional details and upscale elements within the designs of the column covers bring grounded and sophisticated finishes into the shared space, while supplying high quality, durable decorative designs for high-traffic public areas.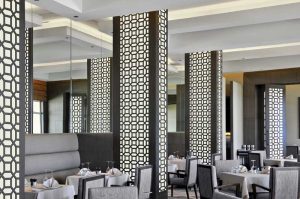 Elevated design features
In tandem with patterns, finishes, shapes, and sizes, metal column covers can incorporate upscale elements, such as backlit features and laser cut details, into their construction, allowing for a myriad of design options to support the integration of other features. Taking structural elements to a whole new level, these elevated design features tie the architectural elements of the surrounding environment together, while creating a focal point that sets the tone for a space's design.
The versatility of column covers allow them to take on the appearance of entirely different materials as well. Some examples include laminates that convey natural materials, such as stone or wood, custom opportunities that overlay images or graphics significant to the space, engravings of meaningful patterns, or an array of grains that add depth. Metal column covers capture the complexity and feel of these authentic forms while offering a lightweight, cost-efficient opportunity to bring design-forward elements into a shared space.
While these elements are impactful alone, coupling these details with light-emitting diode (LED) backlighting adds a new level of physical and visual depth. Lighting functional columns in a space provides a distinctive design feature while creating a unique glow, drawing visitors' eyes to the patterns and textures.
Bringing new layers of dimension, texture, and visual interest to a space, adding unique details to metal column covers highlight the surrounding architecture, anchoring the space while adding a unique expression. With an understanding of how prominent design features can transform a space, these covers can help make any column become a standout showpiece in any environment.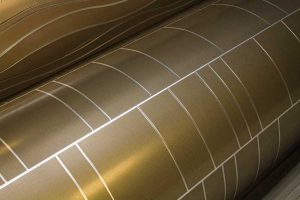 Conclusion
As people continue to re-enter the world of shared spaces, contractors need design materials that meet the moment. Metal column covers seamlessly blend design and function to create a design element that is as durable as it is aesthetic, offering an array of features that cater to contractors' needs for the individuality of each space. With a straightforward process from specification to installation, column covers offer contractors the ability to configure a solution which features the most desirable details within an environment, whether it be intricate design features for a commercial space's focal point, or a durable finish for high-traffic spaces that is as hard wearing as it is visually intriguing. No matter the project, metal column covers bring aesthetic versatility to structural elements and shine in commercial spaces.

Author
Ernie Ngo is the general manager at Móz Designs, a tenured employee of the metal manufacturer for 30 years. An architecture graduate from the University of California, Berkeley, Ngo has utilized his talents to inform the design and execution of architectural metal solutions for Móz projects across the country.