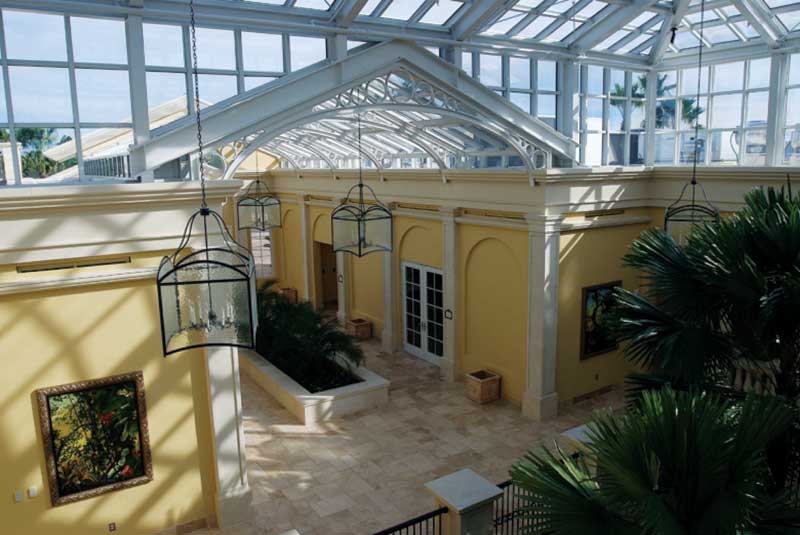 by Tammy Schroeder
Coastal areas are beautiful locations for commercial and residential buildings, but also pose the greatest challenges in protecting exterior-facing architectural aluminum products from corrosion. Aluminum windows, storefronts, entrances and curtain walls, sun shades, canopies, skylights, column covers, rainscreens, and exterior panels all integrally connect to a building's façade. Without proper precautions and finishes, corrosion to these components can damage the building envelope's structural integrity, leading to systemic failure.
Specifiers can successfully select a painted coating or anodize finish meeting a project's required performance and long-term durability by carefully considering the building's location and function, the owner's desired visual appearance and environmental attributes, and the architectural aluminum products' proximity to dissimilar metals.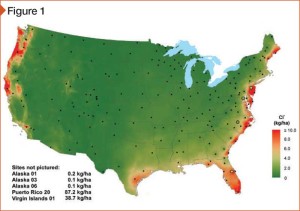 What defines a 'coastal' environment has been debated for decades. The American Architectural Manufacturers Association (AAMA) Coastal Corrosion Task Group continues to discuss the definition for sites far from saltwater, but still with high atmospheric alkaline concentration (e.g. Detroit and Dallas). The Qualicoat Standard, the specification for coated architectural aluminum in the United Kingdom and Ireland, defines coastal as within 5 km (2.8 mi) from any coast or tidal estuary.
According to the Aluminum Association, their namesake material remains resistant to corrosion unless it is exposed to some substance or condition that destroys the protective oxide coating. Aluminum is highly resistant to weathering, including many industrial and harsh atmospheres that often corrode other metals.
Location, location, location
Even at substantial distances from the ocean, structures are susceptible to corrosion from salt. Various sources use 457.2 m (1500 ft), 2.4 km (1.5 mi), or "within eyesight of the ocean" as definitions. In an effort to have a more technically sound basis for definition, AAMA's Coastal Corrosion Task Group uses the definition of a "coastal" exposure as shown on the National Atmospheric Deposition Program (NADP) maps from 2010. The map, shown in Figure 1 is referenced showing a threshold level of 4.5 kg of chlorine ion wet deposition per 1 ha (9.92 lb per 2.47 acres).
NADP monitors precipitation chemistry. The program is a cooperative effort between many different groups including federal, state, tribal and local governmental agencies, educational institutions, private companies, and non-governmental agencies. One of the most aggressive outdoor environments for aluminum is the seacoast as illustrated in the map, which compares wet chloride ion concentrations throughout the United States. (The amount of time exposed surfaces remain wet, and the temperature and frequency of temperature cycles [from cooling unit cycling] are likely to be relatively higher in many coastal applications.)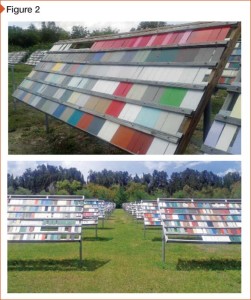 Florida's coastal regions represent the most corrosive in the continental United States, with Cape Canaveral cited as the most corrosive atmospheric environment. A coating evaluation testing site was established at the Kennedy Space Center in the 1960s. Thousands of coated test panels have been evaluated in the high-salt, high-humidity and high-ultraviolet (UV) exposure of Florida's seacoast environment (Figure 2).
In addition to obvious coastal zones near seawater, buildings located inland in cold climates may also need to consider protecting their architectural aluminum products when salt is used as a de-icing agent. These chemicals attack aluminum and its coating when allowed to dwell on the surface.
Aluminum corrosion
A corrosive environment can consist of various corrosive elements, besides the most common, salt. Not all corrosive pollutants are found in a single corrosive environment; however, a corrosive environment seldom contains only one pollutant. The more severe the atmosphere, the more critical an appropriate protective coating becomes.
Within each corrosive environment, levels of severity have been established. To classify the severity of an environment, rainfall, air temperature, NADP monitored pollution and other factors. No two environments are precisely alike. Figure 3 can be used as a general performance guideline.