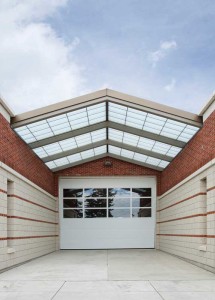 Architectural anodize provides excellent wear and abrasion resistance with minimal maintenance in most environments. It resists the ravages of time, temperature, corrosion, humidity, and warping. Anodize should meet the Class I specifications of AAMA 611-12, including a minimum oxide coating thickness of 0.018 mm (0.7 mil).
Section 8 of AAMA 611 refers to the corrosion resistance requirements necessary for passing these stringent guidelines:
corrosion resistance—five or more Class I coating samples are exposed to five percent salt solution for 3000 hours with a maximum of 15 isolated spots or pits, none larger than 1 mm (0.04 in.);
South Florida exposure—coating must maintain its color retention properties for a minimum of 10 years on the South Florida on-fence testing site;
color retention—maximum of 5ΔE color change (per Color Measurement Committee) after the minimum 10-year exposure test; and
abrasion resistance—anodize coating to be harder than the specified grade abrasive paper (Abrasive type–Glass, Grade-Flour), known as the Michael Clarke Abrasion Test.
Copper anodize is available for architectural aluminum products that want the rich look of the material without the design issues of dissimilar metals or copper runoff. (Rainwater from copper roofing or flashing can quickly damage anodized aluminum.) Aluminum and copper are far enough apart in the galvanic series that using them together in a coastal or corrosive environment is not good practice.
This anodize process is a unique, consistent, and repeatable process that involves using actual copper to color the aluminum, while isolating the copper in the coating. The copper color observed is actual copper that does not patina and remains stable to provide many years of service. The copper anodize described here meets all AAMA 611 Class I specifications.
Green building considerations
A coastal building envelope endures some of the most rigorous, daily durability challenges. Selecting an exterior architectural finish preserving the longest lifespan can be an immense undertaking.
Since the inception of the U.S. Green Building Council's (USGBC's) Leadership in Energy and Environmental Design (LEED) rating program in 1998, awareness of the various finishing options and performance criteria has increased. The finishing technologies and processes are extremely important to a building's longevity and sustainability.
Construction damage repair and restoration of architectural products originally finished in 70 percent PVDF coatings can be refinished onsite by professional applicators using the same type
of high-performance coating in an air-dry system.
For the health and safety of occupants and the environment paint coatings containing heavy metals—lead, mercury, and cadmium—should be avoided. Heavy-metal paint should never be used on any project that involves a school, daycare, playground equipment, or any building surfaces with which children are in contact. These are often banned or restricted by federal, state, and local laws, regulations, and ordinances.
Secondary billet can be anodized or painted and can contribute to recycled material content criteria by green programs such as LEED. (While any amount of recycled content can be used in anodized aluminum without change in performance, there could be variation in aesthetics. To minimize visible imperfections in higher percentages of recycled content, some prefer to specify less than 20 percent post-consumer recycled content to achieve the desired look. Others are comfortable specifying higher post-consumer recycled content percentages when a uniformly smooth, matte, aluminum finish is not required for the end-project.)
Anodized aluminum is 100 percent recyclable, lending itself to post-consumer recycled content during demolition or restoration of a building.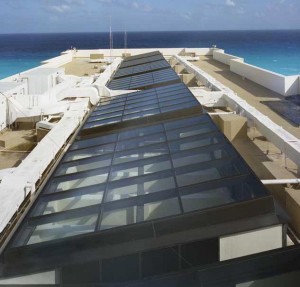 Cleaning and maintenance
Studies have shown increasing levels of atmospheric pollution can have a negative effect on finish longevity in the absence of periodic maintenance.
Runoff from adjacent site materials must be considered in a corrosion prevention plan. For example, mortar, cement, and even gypsum dust can accumulate as alkaline deposits on aluminum surfaces and must be promptly rinsed. This is especially true of mill finish or anodized surfaces. While somewhat more resistant to alkaline attack than anodized surfaces, high-performance paint finishes can be managed by rough attempts to remove such buildup.
AAMA 609 and 610-02, Cleaning and Maintenance Guide for Architecturally Finished Aluminum, and AAMA CW 10-12, Care and Handling of Architectural Aluminum from Shop to Site, are general guides for these precautions and cleaning activities.
These precautions are also necessary when diluted acid 'wash' solutions are used on new masonry and brick, or when fungicide and mildew removal solutions, such as bleach, are employed by building maintenance crews. Runoff must be promptly and thoroughly rinsed to prevent attack, including those areas concealed from view in hardware tracks or deep reveals.
Conclusion
Galvanic corrosion of architectural aluminum materials is a fact that must be recognized; proper steps must be taken to minimize the potential for its occurrence. With these building considerations and preventive measures in place, finished architectural aluminum retains its intended look and long life, while providing the desired performance in the harshest environments. These qualities reduce the need to replace materials and components, conserve resources, optimize labor, and save money.
Tammy Schroeder serves as the senior national marketing specialist for Linetec, an applicator of all architectural finishing technologies—paint, powder coat, and anodize. With a decade of experience in paint and anodize finishing, she develops and maintains the company's American Institute of Architects/Continuing Education System (AIA/CES) and other educational presentations. Schroeder is a Leadership in Energy and Environmental Design (LEED) Green Associate under the U.S. Green Building Council (USGBC) program. She can be contacted via e-mail at tammy.schroeder@linetec.com.