Helping protect the future of this Art Deco landmark with modern performance, more than 2500 windows were replaced with custom, aluminum-framed units, finished in a two-coat 70 percent polyvinylidene fluoride (PVDF) painted coating. The finish was carefully colored to match the building's terra cotta surround and to resist atmospheric corrosion (Figure 5).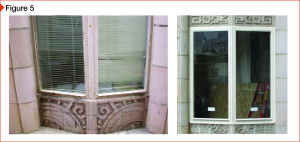 Durable finishing options
Painted coatings and anodized finishes are among the most durable finishes for exterior-facing architectural aluminum products. Along with long-lasting performance, surface appearance is an important characteristic of aluminum extrusions for architectural applications.
Painted coatings
As a prominent part of the buildings' exterior, the coated aluminum adds color and design to the project; this coating also protects the building from unsympathetic surroundings. When selecting a coating to stand up to harsh corrosive environments, one should specify either:
the highest-performing organic paint coating that meets AAMA 2605-11, Voluntary Specification, Performance Requirements and Test Procedures for Superior Performing Organic Coatings on Aluminum Extrusions and Panels; or
a Class I anodize coating that meets AAMA 611-12, Voluntary Specification for Anodized Architectural Aluminum.
These two options continue to set the highest standard for architectural coatings, especially in a coastal or highly corrosive environment.
High-performance 70 percent PVDF coatings give architects, specifiers, and building owners the capability to select nearly any conceivable color or combination of colors, while shielding the building against weathering, pollution, and aging.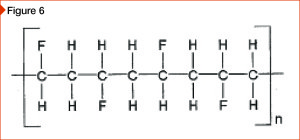 The resin system incorporated into the paint determines the characteristics and performance properties of the coating. PVDF is known for its exceptional chemical stability and resistance to UV radiation. It is used in architectural applications as a coating on aluminum where it provides resistance to environmental exposure. The chemical structure of PVDF is shown in Figure 6.
The carbon-fluorine bond, used in the 70 percent proprietary PVDF coating is one of the strongest known. (For more on PVDF, see Great expectations: Evaluating the performance of UV-durable coil coatings.) These paint coatings have the ability to withstand enduring and intense UV radiation, attributed to long-term color- and gloss-retention, and chalk-resistance.
The first and one of the most important defenses against a paint failure is proper pretreatment of the aluminum. Without proper pretreatment, premature failure of the finish is almost guaranteed. Paint systems are designed to be applied over clean metal that has been properly pretreated. Pretreatment of the aluminum building components to be used in a severe corrosive or coastal environment is crucial.
The most time-tested, proven pretreatment system for architectural aluminum products is a chrome phosphate conversion coating. This process conforms to Type B, Method 5 of ASTM D1730-309, Standard Practices for Preparation of Aluminum and Aluminum-Alloy Surfaces for Painting, as required by AAMA 2605-11.
The aluminum is subjected to a multi-stage immersion or spraying process. The first stage cleans the aluminum to remove any organic/inorganic soils, oils, and grease. It also removes aluminum oxide and other metal oxides, rendering a clean and active surface for the next treatment steps. Stage two is a clean-water rinse. The third stage is the application of the amorphous chromium phosphate coating, applied in a uniform coating greater than 40 mg per 0.093 m2 (0.0014 oz. per sf) per ASTM B449, Standard Practice for Chromate Treatments on Aluminum. Stages four and five are rinse stages. The pretreatment process is highly corrosion-resistant and provides excellent coating adhesion.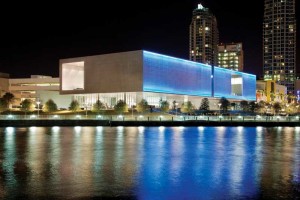 Offering the longest lifecycle and true sustainability, chrome phosphate conversion coatings continue to be recognized by coating manufacturers as one of the most effective, robust pretreatments for aluminum. As a result, products installed along the seacoast and in other harsh industrial environments may not be warranted—or the warranty length and coverage could be compromised—when a chrome pretreatment system is not employed.
After the aluminum has been pretreated, a primer coat is applied before the paint coating application. The paint coating is then sprayed to meet the AAMA 2605 of a 0.03-mm (1.2 mil) total film thickness (TFT).
These highest-performing 70 percent PVDF coatings meet the most stringent, exterior, architectural specification AAMA 2605-11. This specification requires paint coatings to meet rigorous testing performance standards, including more than 4000 hours of salt spray, and heat- and humidity-resistance.
Section 8.8 of AAMA 2605 refers to the corrosion resistance requirements of all coating that must pass these stringent guidelines:
humidity—the sample is exposed in a controlled heat and humidity cabinet for more than 4000 hours at 3.33 C (38 F) and 100 percent relative humidity (RH); no blister formation to extent greater than a few, as defined by ASTM D714-02, Standard Test Method for Evaluating Degree of Blistering of Paints;
salt-spray resistance—the sample with a scored film exposing bare metal is exposed to five percent salt solution for 4000 hours (the sample must score a minimum rating of '7' on scribe or cut edges and a minimum blister rating of '8' per ASTM D714-02, where '10' represents no blistering and '8' represents the smallest size easily seen by the unaided eye);
South Florida exposure—the coating must maintain its film integrity, color retention, chalk resistance, gloss retention, and erosion resistance properties for a minimum of 10 years on the South Florida on-fence testing site;
color retention—maximum of 5ΔE Hunter units of color change following the minimum 10-year exposure test (A ΔE Hunter unit is the variance or color difference measured on a vector scale from a specific reference point in the color space.);
chalk resistance—chalking shall be no more than that represented by a No. 8 rating for colors and No. 6 for whites after 10 years of test fence exposure (per ASTM D4214-07, Standard Test Methods for Evaluating the Degree of Chalking of Exterior Paint Films), and be measured on a numerical scale with higher numbers representing better chalk resistance;
gloss retention—minimum of 50 percent after the 10-year exposure testing, as described by ASTM D523-89, Standard Test Method for Specular Gloss; and
resistance to erosion—less than 10 percent film loss after the 10-year exposure testing.
Anodized finishes
When extreme hardness is required for the aluminum building components, such as in high-traffic areas like entranceways and railings, an AAMA 611-12 anodized aluminum finish should be specified. The hardness of anodized aluminum rivals that of the diamond. (On the Moh scale of hardness, a diamond is 10 and anodize aluminum is 9.)
As the first finishing technology developed, the anodize process provides corrosion protection, abrasion resistance, and translucent color to aluminum surfaces. Architectural anodize is specified for its natural beauty, but also for its long-life and low maintenance.
Anodize is created from the substrate itself, integral to the part on which it forms. It is achieved by artificially thickening the naturally occurring oxide layer. The process passes a direct electric current between the aluminum and the electrolyte, with the aluminum acting as the anode. The procedure mimics the naturally formed oxide film, but results in a thicker, more controlled formation of a durable oxide film.