by Gary McKee, CSI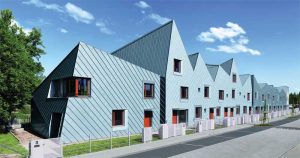 Used in Europe since the 1800s, zinc exterior wall cladding has gained popularity in the united states during the last few decades. As a proven and dependable material, architectural rolled zinc products complement both contemporary and traditional designs. As buildings weather and age, their zinc façades develop a recognizable patina that are unique to the projects' sites.
Longevity and sustainability are two of the key values zinc offers. These wall cladding products are capable of maintaining their self-healing, low-maintenance, and corrosion-resistant performance with a potential lifespan of more than 100 years. At the end of the zinc products' lifespan, the material remains 100 percent recyclable without the loss of existing properties.
Understanding the advantages of these zinc façade cladding products will help in specifying the right system to meet the aesthetic and performance expectations in commercial applications.
Common descriptions of zinc wall products
When specified for façade cladding, architectural rolled zinc products are most commonly described in terms of panels, tiles, and standing seams. Dimensions, system orientation, shapes, sizes, and perforations can be further defined and customized to meet a project's unique goals.
Typical zinc façade cladding product examples include the following.
Flat-lock tiles
These tiles can be installed horizontally, vertically, or diagonally with overlapping seams for a running bond or complex designs on flat or curved surfaces. Usual dimensions show face heights of 203 to 406 mm (8 to 16 in.) or larger, with lengths spanning up to 3 m (10 ft). Larger sizes require a heavier gauge. Tile shapes can vary from rectangular and square to diamond.
Standing-seam panels
These can be oriented horizontally, vertically, and diagonally to produce the desired linear look. Standard seam heights are 25 and 38 mm (1 and 1.5 in.). Lengths vary up to 4 m (13 ft) with typical widths ranging from 305 to 425 mm (12 to 17 in.).
Horizontal panels
These panels allow for an emphasis on the reveal with face heights up to 254 mm (10 in.) and lengths up to 3 m. Joint widths from zero to 25 mm are possible. A hairline joint minimizes shadow lines for a flush look. Panels and joints can be configured to create vertical joints or can be staggered with backer plates.
Vertical reveal panels
These are similar to those offered for horizontal installations and feature face widths up to 330 mm (13 in.). Vertical and horizontal panels can be combined to form innovative façade designs.