Corrugated profiles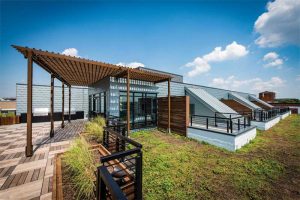 These are available as sinusoidal profiles or as trapezoidal, 'box' profiles to clad large areas with ease using either exposed or concealed fasteners. Panels can be installed horizontally, vertically, or diagonally. Common sinusoidal profiles have heights of 13 and 22 mm (500 and 900 mils). The typical sine frequency is 68 mm (2.7 in.). Trapezoidal profiles for wall applications often present a strong shadow effect with depths up to 51 mm (2 in.).
Perforated panels
These panels provide the benefits of zinc, combined with advantages of daylighting and passive solar shading, as well as low-maintenance punched openings that naturally patina.
Cassette panels
These are often a part of an engineered curtain wall system. They allow for larger format panels through the use of reinforcements behind them and incorporated into the frames. For these large panels, 16 gauge is typically recommended.
Weathering, coloration, and the patina process
Mill-finish zinc starts with a bright surface similar to raw aluminum. Most architects, however, select zinc for its future patina appearance. Like copper, zinc develops a distinctive patina, or surface crust, that is based on the composition of the alloy and local environmental conditions.
The patination of architectural zinc products forms through a two-step chemical reaction. The zinc combines with water and oxygen to form zinc hydroxide, and then with carbon dioxide (CO2) in free-flowing air, the zinc generates a dense outer layer insoluble to water and a packed inner layer of alkaline zinc carbonate.
A patina's formation is a process of the gradual growing together of zinc carbonate 'freckles' and the rate of its formation is related to the slope of the surface. The patina will form slower on a vertical wall surface than on a slightly pitched roof. The patination speed can vary between six months and five years, or more, depending on climatic conditions. The more exposure to wetting and drying cycles, the quicker the patina will develop. After true patina has fully formed the process will slow down but never stops. Ultimately, the natural patina will form to a soft blue-gray or graphite-gray color, depending on the alloy.
While the basis of the patina is alkaline zinc carbonate, additional substances are incorporated from the local humidity, rainfall, snowfall, and air pollution levels. This is why the color of the patina can vary from one place to another. The natural patina will appear lighter when used in marine locations where the air contains chlorides. When used in environments where sulfur levels are higher, the patina may appear somewhat darker. In marine environments, a blue-gray zinc is frequently selected for aesthetic reasons. The typical deposits of chlorides (salt) in marine environments are not as visible on blue-gray as the darker graphite-gray.
At least one zinc material manufacturer has developed a proprietary 'pre-patina' process to bring out the metal's natural gray color and subtle grain texture. For those seeking alternatives to zinc's natural aesthetic, these products also may be specified with manufacturer-approved architectural coatings.
Material classification and cost-effective consideration
Architectural zinc uses high-grade zinc with trace elements of titanium and copper. This metal alloy is noncombustible and malleable. ASTM B69-16, Standard Specification for Architectural Rolled Zinc, is the current industry specification standard. It details Type 1 and Type 2 architectural rolled zinc, where Type 2 has a higher copper composition and a graphite-gray patina.