Compatibility, sustainability, and longevity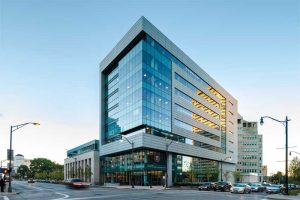 Architectural rolled zinc is affected by its surrounding conditions. This means wall cladding products loosely stacked on pallets or platforms must be protected by a weatherproof, ventilated covering. They cannot be stored in contact with other materials that could cause staining, denting, or other surface damage.
Acidic materials are of key concern. It is therefore recommended to avoid placing zinc in contact with or downstream from acidic woods including oak, red or white cedar, larch, hemlock, or chestnut. Red rosin paper produces an acidic vapor and should never be used as a slip sheet. It is suggested to use PH-neutral sealants.
Glass, aluminum, galvanized, stainless, and painted steel, and most solid, dry building materials do not present any compatibility issues with zinc. Corrosion to zinc is unusual, but can be caused by electrochemical reactions, such as when copper is installed above zinc. Chlorides are also problematic, and may be found as an additive in mortar or concrete as a bonding agent, or to inhibit freezing. Contact with human perspiration should be avoided. Wearing clean gloves when handling and installing the zinc material may be necessary.
Zinc wall systems require minimal maintenance when exposed to normal weather and atmospheric conditions. Clean, clear water, a soft sponge, and a non-acid based cleaner should take care of light dirt, dust, and bird droppings. It is advisable to wash in the same direction as the grain, then rinse thoroughly, and always test a small area first to see if acceptable results are achieved. It is recommended to check with the zinc manufacturer if more aggressive cleaning is needed to remove oily dirt, adhesive residue, or heavy soiling. Pre-weathered zinc material also necessitates special considerations. If this surface is rubbed off or otherwise removed, the bright rolled material will appear. It is important to consult a zinc manufacturer for complete cleaning instructions.
Zinc is a 'sacrificial' material. When it is scratched, scuffed, or fingerprinted, the metal heals itself by re-patinating. With time and exposure to wetting and drying cycles, the former blemish will patinate and blend to match.
Architectural rolled zinc is largely considered a sustainable building material. Based on known ore reserves, the world's zinc supply is estimated at 34 million tons and expected to last approximately 700 years. As a 100 percent, infinitely recyclable material, zinc scrap metal also eliminates waste and promotes re-use.
As the construction industry moves toward more transparency for environmental and wellness issues, specifiers are further evaluating zinc manufacturers according to cradle-to-cradle certifications and environmental product declarations (EPDs). Environmentally responsible zinc partners are generous in sharing their documentation and expertise, supporting the project from schematic design through construction, and backing their material with a warranty.
It is advisable to select a zinc manufacturer who certifies their material to ASTM B69-16, and has experience in similar climates and applications. Designating one zinc manufacturer as the basis of design will further minimize variations in material performance. When properly specified, fabricated, and installed, zinc façade and wall cladding products add elegance to architectural applications and can last generations.