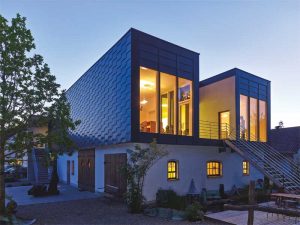 The zinc composition makes the material easy to fabricate. Additionally, both types of architectural rolled zinc are used for walls, roofs, gutter systems, and interior commercial applications.
As a building material, zinc is manufactured in continuous 0.5 or 1-m (1.6 or 3-ft) wide strips. These are shipped as either flat sheets or rolled coils in 24, 22, 20, 18, and 16-guage thicknesses. Tiles and panels can be fabricated as roll-formed or brake-formed engineered wall cladding systems. Generally, thicker material is used for large-format wall panels, and thinner material is used for standing-seam roofs and other products.
The specifier should qualify zinc manufacturers based on material quality, flatness, finish color, texture, selected panel profile, application system, availability, customer service, and technical support. Selected zinc material manufacturers should provide product data, details, and instructions, as well as material samples for submittal. These are accompanied by engineering calculations and shop drawings provided by the subcontractor. The calculations must be prepared and stamped by a professional structural engineer who is licensed and registered in the location as the project.
Shop drawings typically include:
layouts of panels on all wall elevations;
actual dimensions and seams; and
details of panel terminations, edge conditions, joints, corners, panel profiles, supports, attachments, trim, flashings, closures, and special considerations.
To ensure the zinc façade system meets the project's aesthetic and performance requirements, a mockup might be necessary. This is produced using the specified materials and methods, and quality control standards. If needed, a full-size mockup may be installed on location for a final approval.
Benefiting all those who are involved on the project, most zinc material manufacturers offer in-depth information on efficient and cost-effective fabrication and installation. Here are some examples.
roll-forming zinc panels are almost always less expensive than folding—additionally, corrugated, standing seam, and flush-seam panels can also be roll-formed;
if the material temperature is below 10 C (50 F), zinc becomes brittle, and the risk of fracture while folding increases as the temperature decreases;
zinc has a high coefficient of thermal expansion and should have accommodations in the design to allow for movement;
the first consideration at any joint should be how to achieve the detail without solder or sealant, as sealants can limit airflow or trap moisture behind the zinc panels and decrease the panel's lifespan, and soldering at a high heat can burn through zinc;
when detailing a zinc system, it should be noted some details require less labor, and since labor represents two-thirds or more of the contract, expensive time-consuming details should be reviewed to ensure they are necessary to fulfill the architect's vision;
panel sizes should be chosen to optimize the full width of the zinc sheet or coil and to minimize scrap material—similarly, panel lengths should be limited for easier handling, fabricating, and installing, as well as to reduce waste in the shop and the field; and
fewer pieces can save time and labor, however, heavier gauge zinc or smaller panels may be necessary to reduce perceived waviness (oil-canning).